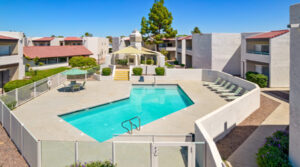 PHOENIX, Jan. 6, 2023 –  A portfolio of three apartment communities in greater Phoenix has been sold to Tides Equities, a leading commercial real estate investment company based in Los Angeles.  PaulsCorp of Denver sold the assets, all located in the western section of metropolitan Phoenix.
"We were excited to assist Pauls in the execution of their business plan," said Brad Cooke, executive vice president of Colliers in Arizona.  "Pauls did a great job stabilizing these assets and curing some minor, deferred maintenance, enabling the buyer to step in immediately, implement their business plan and elevate the properties to another level."
Brad Cooke, Cindy Cooke, Matt Roach and Chris Roach with Colliers in Arizona handled the transaction.  Pauls sold the portfolio to Tides Equities, LLC of Los Angeles.
"The constantly changing interest rate environment was challenging, but we held the course to closing," says Cindy Cooke, senior executive vice president with Colliers in Arizona.
The portfolio included a total of 445 studio, one- and two-bedroom units.  The communities, constructed in 1985 and 1986, were each at least 95 percent occupied at the time of the sale.  The properties include:
The Perry – 6231 N. 67th Glendale, AZ (148 units)
Serena Park – 8546 N. 59th, Glendale, AZ (141 units)
Red Sage – 5704 W. Thomas Rd., Phoenix, AZ (156 units)
The portfolio offers immediate and proximate economies of scale within strong, high performing submarkets bolstered by access to over 60 percent of the metro's workforce.  Expanding on current common amenities and implementing modernized interior finishes are planned to meet the growing demand for obtainable, upscale housing. The seller spent $6.45 million during the past three years to renovate interiors and resolve deferred maintenance at the properties, which can be continued with more modernization that will raise rental rates in these growing neighborhoods.