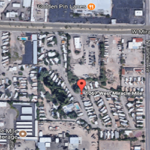 TUCSON, Arizona — Allen Yadgari and Mike Yamin of Beverly Hills, Calif. purchased three mobile home parks in Tucson with a combined total of $4,628,000 ($23,979 per space) for the 193 total spaces.
The parks included Desert Haven mobile home park at 3332 N Romero Road with 54 spaces, Sun City Rentals at 2444 N 14th Avenue with 46 spaces, and Desert Shores mobile home park at 1067 W Miracle Mile Road and 2823 N Fairview Ave. with 93 spaces.
All three properties are in the Central submarket near each other within a mile.
The bulk sale prices as recorded in three transactions were allocated to custom fit the buyers' 1031 exchange.  The seller was also a California investor from Costa Mesa, Calif.
Each of the parks had rent to own contracts and each had a small percentage of apartment units.
Jeff Ferenz with Jeffrey Alan Adam of Phoenix who handled the transaction for the buyers told us this was not the first mobile home park purchase in Tucson for the buyers.
For additional information, Farenz should be reached at 602.264.6041.