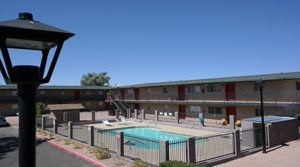 Phoenix, Arizona – Vice President Investment Advisor, Danny Lee with SVN | Desert CommercialAdvisors in Phoenix closes out 2017 with his third multifamily sale in the less than 2 weeks.  Lee who specializes only in multifamily investment property has energized the SVN brokerage firm with the sale of Grovers East Apartments (12/13) for $2.65 million, Bakers Apartments (12/15) for $854,000 and most recently the day after Christmas with Casa Monte Vista Apartments in Phoenix for another $2.8 million.
Casa Monte Vista Apartments is located at 120 W. Dobbins Road. The property is just south of South Mountain Park and is conveniently located between Aguila Golf Course to the east and Legacy Golf Resort to the west, which is only a couple miles from the I-10 freeway.  Once again, Lee represented the seller and procures the buyer in the transaction. The seller Sandy So with Casa Monte, LLLP saw that this sale opportunity came at a great time since she was looking to divest from the partnership.
Lee also procures the buyer ZongFu Li with 3J Group, LLC. "The buyer is a local syndicator that acquires local apartment properties throughout the valley," said Lee. The new owner will begin slight upgrades by adding in new washer/dryers to the units.  The property is made up of 45 individually metered units on 36,000-square-feet of rentable space. This value-add property was built in 1985 consists of one and 98% of two-bedroom floor plans and will be a great investment for the new owner once simple additions are added to the property.