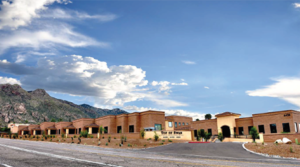 TUCSON, ARIZONA – Two Class A office condominiums recently sold at Top of Swan offices at the northeast corner of Swan and Skyline Drive in Tucson.  The 37,469-square-foot project was built in 2015 and offers office condos for sale and for lease with an option to buy.
KOA Properties, LLC an affiliate of Executive Healthcare (Doug Little, manager) occupied 734-square-feet as a tenant before purchasing the space it was in as well as adjoining condo totaling 2,262-square-feet for $690,000 ($305 PSF) at 6450 N Swan Road.
BB2SB, LLC an affiliate of Elite Medical Experts (Burton Bentley, manager) was occupying 3,792-square-feet at 6440 N Swan Road Ste 100 and purchased it for $1,075,032 ($283.50 PSF).
Jeff Casper with CBRE in Tucson is handling the leasing and future sales of the property. These first two were already in the works when Casper was contracted for the owner, Swan / Skyline Plaza, LLC of Tucson (Andrew Courtney, Director).
Casper told us that with the condos currently in escrow closing, building #3 will be completely closed out, leaving approximately 13,500-square-feet remaining at Top of Swan for sale or for lease.
For more information, Casper should be reached at 520.323.5181.
To learn more, see RED Comp #6585 and #6444.