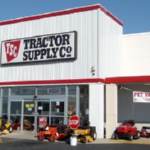 Green Valley Development Group, LLC (David Long, member) has assembled 4-acres at the northeast corner of I-19 and Esperanza in Green Valley Arizona for $1.8 million ($10 PSF) in two separate transactions for construction of a 21,702-square-foot Tractor Supply Company store. Also earmarked will be a 15,000-square-foot fenced outdoor display area, about 80 parking spaces and a loading area.
The Green Valley store will employ 12 to 17 part and full-time staff. The project was approved by Pima County development in December, and design plans, by Green Valley Council's Planning & Architecture Committee in February. Tractor Supply Company has approximately 25 stores in Arizona including two in the Tucson area, one in Marana and another in Catalina with more than 1,500 stores in 49 states nationally.
Tractor Supply Company targets ranchers, homeowners, do-it-yourselfers, contractors and trades workers, with its inventory that includes tractor/trailer parts and accessories.
The Green Valley area is attractive due to the part-time and hobby farmers, and horse owners, the Green Valley News reported. Merchandise also includes lawn/garden, home maintenance and pet supplies, sprinkler/irrigation parts, power tools, outerwear, fencing, welding, pump supplies and mowers.
A grand opening celebration is slated for Sept. 24 in Green Valley.
Long represented and negotiated for the buyer in the assemblage / purchase.
Michael Stilb with M.A.S. Real Estate Services represented the selling entity for 1.15 acres and Tom Coury with Great American Financial represented a California investor in the sale of the other 2.93 acre parcel.
For additional information, Long can be reached at 602-574-0731, Stilb can be reached at 520.888.5127 and Coury is at 480.797.4893.
To learn more, see RED Comp #3804 and #3805.
In a separate transaction, an affiliate of Long Development Corporation, Queen Creek Development Group, LLC (David Long, member) closed on approximately 3.9 acres northwest of Ellsworth and Riggs Roads in Queen Creek, Arizona for $1.059 million ($6.10 PSF). The site is also under construction for a Tractor Supply Company store, with a nearly identical foot print as in Green Valley.
The Queen Creek store opening is slated for Q4 2016.
Kevin Petersen of Petersen Properties & Management in Queen Creek represented the seller on the transaction and Long negotiated for the buyer.
For additional information, Petersen can be contacted at 602.540.8151 and Long should be reached at 602 574-0731.