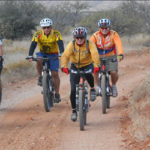 Pima County, Arizona – Few communities in America can match Pima County's passion for bicycling trails and safety.
From the bike routes along every major roadway to the sustained efforts toward safety education, Green Valley and the surrounding areas are constantly working to improve cycling conditions for riders of every level.
Green Valley resident, Bill Adamson has been vital to this cause and as a result, has been named the second recipient of the Chuck Catino Community Leadership Award, named for the longtime volunteer and founder of the Born Again Jocks Association (BAJA) Sporting Club by the Parks & Recreation Commission of Pima County.
Adamson is a longtime Green Valley resident and trails and bicycle advocate. He co-founded the Santa Cruz Valley Bicycle Advocate Committee and has been a cycling advocate for more than 15 years.
Adamson has volunteered on numerous occasions to help the county's Natural Resources, Parks and Recreation Department with trail construction, said Steve Anderson, NRPR planning division manager who nominated Adamson for the honor.
"Bill was instrumental in securing a $39,000 grant from Freeport McMoran Foundation to create a trail to bridge the 1.9-mile gap between Abrego (Anza) Trailhead to Canoa Preserve Park, the only public park in Green Valley," Anderson said.
"Bill Adamson is the prototypical trails and bike paths advocate. He knows how to communicate his wishes, but does it so that everyone wins," Anderson said. "He's a truly extraordinary advocate."
Nominees for the Catino Award must be at least 45 years of age and be unpaid volunteers. Nominations are accepted each fall, then candidates are recommended to the Parks and Recreation Commission in February. Contact Valerie Samoy at 520-724-5220 for details.
Pima County District 4 Supervisor Steve Christy will present the award to Adamson at the March 7 Board of Supervisors meeting.
Mr. Adamson may be reached at 520-400-7707.