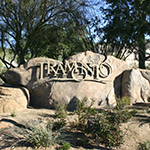 PHOENIX – SNOWDON PARTNERS PROPERTY VI managed by Mike Vucekovich of Scottsdale, AZ paid $2.7 million dollars including a down payment of $800,000 and new debt of $1.9 million to acquire +/-10 acres in north Phoenix.
The 10 acre site is located at the NEC of 33rd Lane and North Valley Parkway within the Tramonto Master Planned Community in Phoenix, AZ. The Seller on the transaction was Sunset Tartesso, LLC an Arizona investment group managed by Elliot Homes Inc.
The property is currently approved for approximately 220 condominium units. Snowdon intends to develop the site for approximately 150 individual, duplex and triplex units for upscale leasing.
Ryan Arp and Rick Jellies of City to City Commercial Real Estate, brokered the transaction which was closed at Thomas Title, Scottsdale, AZ. City to City Commercial Real Estate will continue their representation and provide ongoing consultation on the acquired parcel.
To learn more contact Snowdon Partners, Mike Vucekovich at 602.553.4118 or City to City Commercial Real Estate, Rick Jellies at 480. 235.1144.