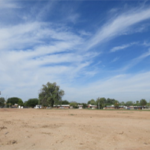 TUCSON, AZ –MS Tucson, LLC an affiliate of Mainstreet Property Group, purchased 8.5 acres located at 5151 E. Pima Street in Tucson from 5151 Pima, LLC (Craig Masters, manager), for $2.4 million ($6.47 PSF).
The buyer plans to construct a 47,300-square-foot Transitional Care Medical Facility on 5.5 acres, and make the 3-acres of excess land available for sale, to be represented by PICOR.  The property is located at Pima and Rosemont Blvd., within blocks of Tucson Medical Center.
The Mainstreet Group is an Indiana-based developer of senior housing and care properties, specialized in the acquisition and development of real estate properties focusing on both the long-term and short-term care for the senior population.
Transitional Care Centers assist patients with complex medical needs, primarily older patients, at risk of poorer outcomes due to medication errors and other errors of communication among the involved healthcare providers and between providers and patients/family caregivers. Most transitional care occurs from hospitalization to the next provider setting – often a sub-acute nursing facility, a rehabilitation facility, or home either with or without professional homecare services. Adverse patient outcomes include continuation or recurrence of symptoms, temporary or permanent disability and death. Healthcare utilization outcomes for patients experiencing poor transitional care include returning to the emergency room or being readmitted to the hospital. As healthcare expenditures rise at an unsustainable rate there is increasing focus by patients, providers and policymakers on restraining unnecessary resource utilization such as that incurred by preventable re-hospitalizations.
Rick Kleiner, MBA, Office Specialist with Cushman & Wakefield | PICOR, represented the seller. Devpal Gupta with Cushman & Wakefield, Phoenix, represented the buyer in this transaction.
For more information, contact Kleiner at 520.546.2745 or Gupta at 602.682.8207.
To learn more, see RED Comp #4169.