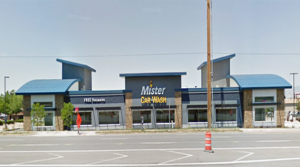 TUCSON, Arizona – Tucson-based Mister Car Wash continues to expand, now with 266 car washes it operates in 21 states. Prior to this year the company had grown through acquisitions and recently opened two new locations built and developed by and for Mister Car Wash in Iowa and Utah.
The new product being developed by Mister Car Wash will be brought home to Tucson soon at the Bridges, a successful mixed-use project at the northwest corner of I-10 and Kino Parkway, as soon as permits and entitlements are complete on a pad to the north of Discount Tire. The Bridges includes 112-acres of retail development, in addition to the 65-acre UA Tech Park and 175-acres of residential development.
Costco, Walmart, Cinemark Theater, Planet Fitness and Dave & Buster's anchor the retail component, known as  Tucson Marketplace at The Bridges.
Another car wash was sold recently at 320 W Irvington Road in Tucson for $320,000 to the owner of the adjacent Las Palmas Bar at 332 W Irvington Road, Arizu's Holding Company. It was purchased for additional parking.
Mister Car Wash represented itself in the sale and Aaron LaPrise with Cushman & Wakefield | Picor is handling new acquisitions for the company.
For information about services and career opportunities with Mister Car Wash, please visit www.mistercarwash.com.
To learn more, see RED Comp #6236.