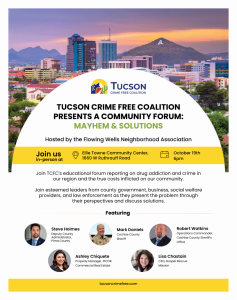 TUCSON, AZ (October 16, 2023) -- Tucson Crime Free Community and the Flowing Wells Neighborhood Association is hosting a community forum on Thursday, October 19th at 6:00 p, at the Ellie Towne Community center at 1660 West Ruthrauff Road.
The educational forum will have expert speakers from our region who will identify some of the issues and portential solutions revolving around crime and substance abuse in our community.
Guest Speakers to include:
Cochise County Sheriff Mark Dannels and Commander Robert Watkins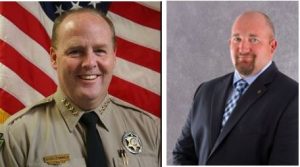 Cochise County Sheriff Mark Dannels is a 39 year law enforcement veteran. Commander Robert Watkins is a 21 year law enforcement veteran. Both men are highly accredited and experienced in their careers. Sheriff Dannels has 3 primary objectives:  Organizational Development, Border Security and Community Outreach. Dannels is "A Sheriff for All the People"
Sheriff Dannels and Commander Watkins will be presenting on the realities of our southern border. Failed federal policies, human trafficking, drug trafficking, Cartel involvement and the dangerous real-world scenarios these men and their deputies face on a daily basis.
Retail & Commercial Real Estate Expert - Ashley Chiquete
Ashley Chiquete is a native Tucsonan known for her leadership and relationship building and is a commercial property manager with Cushman & Wakefield PICOR. Ashley joined the team in 2021 in a support role and quickly advanced to oversee a portfolio comprised of retail, office, and industrial properties. Ashley holds her Arizona real estate license and is a member of Building Owners and Managers Association (BOMA) Tucson.
Ashley will be presenting on general negative effects of crime and how this widely affects tenants, patrons, and property owners.
Steve Holmes - Pima County Deputy Administrator
Steve Holmes joined Pima County following 28 years of extraordinary service in public education and a very successful period as Superintendent of the Sunnyside Unified School District. Over the last year with the unanimous support of County Administrator Jan Lesher and the Board of Supervisors, Steve has led several joint initiatives with TCFC. Initiatives have included the highly successful, "Say No To Panhandling, Say YES to Helping Agencies Serving Those In Need" signs at County intersections as well as launching the TRANSITION CENTER at the Pima County Jail.
Steve will be presenting on the goals of reducing recidivism and guiding people to the services they need to transform their lives by directing them to the TRANSITION CENTER.
CEO of Gospel Rescue Mission - Lisa Chastain
Lisa Chastain is an expert in addiction and rehabilitation services. Lisa is the CEO of Gospel Rescue Mission which is recognized as one of the most successful models for empowering people to overcome addiction and return to society as productive members. Lisa followed in the footsteps of her grandfather, Ray Chastain, who founded Gospel Rescue Mission and created the Center of Opportunity opening in 2019 with the generous help of the local H.S. Lopez Family Foundation. With over 20 years working with homeless and those on-the-brink, Lisa has a passion for helping people become self-sufficient.
Lisa will be presenting on her experiences of being the CEO of Gospel Rescue Mission, and creating a pathway for people to transform their lives.
Seating is limited, so please RSVP here.