Tucson Estate Once Listed for $22 Million On Auction Block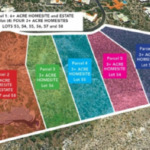 A 25,000 sq. ft. luxury estate on 20 acres with 4 ready-to-build lots was listed in 2007 for $22 million. "The price was lowered to $15.9 million in 2011 and reduced to $12.95 million in 2012," the Wall Street Journal quoted the current listing agent, Martha Briggs of Long Realty in Tucson. It is now scheduled to be auctioned with a minimum bid of $8.4 million.
The estate at 7474 N. Catalina Ridge Drive, Tucson, Arizona 85718 is on 6 acres with four ready to build 3.3 acres homesites The offering can be purchased in its entirety or as individual parcels.
The owner, Carey Marmis, is a real estate developer who assembled the land in multiple transactions during the 1980s and spent almost a decade designing and building the house complete with views of the Tucson valley, has seven bedrooms, 11 bathrooms, a library and home theater, two elevators, a 2,200-bottle wine cellar, a 45-foot wall of Coconino sandstone, and a stainless steel roof. There is also an Olympic-size shooting and archery range, a pool and tennis court according to the auction company.
The auction, with bids due May 14th by 5:00 p.m., is being handled by Sheldon Good & Company of New York. To participate, a bidder must view the property by appointment during the open house dates from 4:00 to 7:00 p.m. on the following dates: April 20, 21, 26 and 27; May 3, 4, 10, 11 and 12.
A bidder information packet is available for $50 and can be obtained online at https://www.sheldongood.com/Real-Estate-Auction, at on-site inspections, at all open houses, or by calling the auction center at 800-315-2199.
There is a 2.5% co-broke fee offered.
Briggs can be reached at (520) 240-8806. Buyers should call (800) 480-0061 or email auctionrequest@sheldongood.com