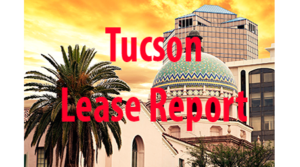 The following commercial leases were reported to the Real Estate Daily News for the Tucson Lease Report from April 2-6, 2018.
RETAIL - Twin Peaks & Silverbell, Shoppes at Continental Ranch, Marana
Go Wireless, Inc., dba Verizon Wireless has signed a lease for a new store in a new freestanding PAD building to be constructed at Shoppes at Continental Ranch, at the southeast corner of Twin Peaks and Silverbell Roads in the Continental Ranch master planned Community in Marana, Arizona. The new store will be 2,200-square-feet and is expected to open in November 2018. Craig Finfrock and Zach Morgan of Commercial Retail Advisors, LLC represented the landlord, Shoppes at Continental Ranch, LLC, and the tenant was represented by Bonnie Arlia and Brian Gast of Velocity Retail Group. Commercial Retail Advisors, founded in 2001, specializes in the leasing and sales of shopping centers and retailer tenant representation throughout southern Arizona.
RETAIL - 5420 East Broadway, Ste 234, Tucson, AZ
Bayleaf Foods, LLC has leased 1,253-square-feet at 5420 East Broadway Boulevard, Suite 234, located within the Plaza at Williams Centre. The tenant plans to open Fruitshack Smoothies and Yogurt in the space. Andy Seleznov, Melissa Lal, and George Larsen of Larsen Baker represented the landlord.  Jeramy Price of Volk Company represented the tenant.
RETAIL - 6781 N Thornydale Rd., Ste 229, Marana
Kevin Volk and Jeramy Price of Volk Company handled a lease for 1,200-square-feet between SCG-Northpointe, LLC and Ken Sprague and Jessica Sprague, dba Stained Purity Tattoo, at 6781 North Thornydale Road, Suite 229. The space is located within Northpointe Shopping Center, which is located at Thorndyale Road and Costco Drive near Costco and Home Depot.
RETAIL- 4514 E Broadway Blvd., Tucson
Goddess Lashes, LLC, leased a 1,200-square-foot space at 4514 East Broadway Boulevard. The space is located within Midstar Plaza. The landlord, Midstar Partners, L.L.C., was represented by Nancy McClure of CBRE and Kevin Volk of Volk Company represented the tenant.
Submit sales and leases to REDailyNews@Outlook.com.