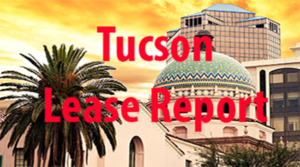 Highlighted this week is a 3,200-square-foot retail space leased to Eegee's that was handled by Terry Dahlstrom of VOLK Company represented the tenant,
The following leases have been submitted to the Real Estate Daily News for the Tucson Lease Report December 7-11.
RETAIL – 8906 E TANQUE VERDE RD., TUCSON
Eegee's LLC, leased approximately 3,200-square-feet of space at 8906 East Tanque Verde Road within the Shoppes at Bears Path shopping center, from WRI Shoppes at Bears Path, LLC. Terry Dahlstrom of VOLK Company represented the tenant,
RETAIL – 800 N COUNTRY CLUB RD., TUCSON
Amazing Fitness, LLC leased approximately 2,957-square-feet within The Benedictine center at 800 North Country Club Road. The tenant will use the space for an F45 fitness facility. VOLK Company agents Debbie Heslop CCIM and Leah Bogen handled the lease.
INDUSTRIAL – 2030 N FORBES RD., TUCSON
Maren Laboratories, LLC, leased 2,377-square-feet of space located at 2030 N. Forbes, Suite 102-103B, Tucson, Arizona. Hank Amos of Tucson Realty & Trust Co., represented the Tenant and Max Fisher of Picor Commercial Real Estate, represented the Landlord in the transaction
RETAIL – 13160 E COLOSSAL CAVE RD., VAIL
Taco Giro has signed a lease for 1,750-square-feet located at 13160 E. Colossal Cave Road, Suite 100, Vail, AZ in Old Vail Station. This mixed-use project is located south of the southeast corner of Colossal Cave Road and Mary Ann Cleveland Way in Vail, AZ. Taco Giro is a family-owned business serving authentic Mexican food. This will be Taco Giro's 6th Restaurant in the Tucson area and 8th restaurant in Arizona. The new restaurant is expected to open April 1, 2021. Craig Finfrock of Commercial Retail Advisors, LLC represented the Landlord, Vail Station and Birch Bay, LLC, and the Tenant represented itself in this transaction. [mepr-show rules="58038"]Tenant Phone: 520.792.2282[/mepr-show]
OFFICE – 7315 N ORACLE RD., TUCSON
Oracle Ina Investors LLC and SRP Two LLC leased 1,639-squarefeet at 7315 N. Oracle #203 within Two Oracle to Tiltify Inc. for an office and administration and tech sales and support. Kevin Volk of VOLK Company and Melissa Lal and Andy Seleznov of Larsen Baker represented the landlord.
RETAIL – 1980 W RIVER RD., TUCSON
Cui Huang and Libing Wang leased approximately 1,286-square-feet at 1980 W River Road for use as a reflexology and massage spa. Jeramy Price of VOLK Company represented the tenant.
Submit sales and leases to REDailyNews@outlook.com.