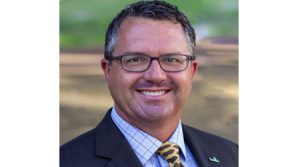 Tucson, AZ (September 12, 2023) – The Tucson Metro Chamber today announced that its CEO, Michael Guymon, has been nominated for the Arizona Capitol Times 2023 Leader of the Year Award. The award recognizes individuals who have made significant contributions to their communities and the state of Arizona.
Michael Guymon is the CEO of the Tucson Metro Chamber. He is a proven leader with a passion for economic development and community improvement. He has a deep understanding of the challenges and opportunities facing Tucson and is committed to working with businesses, government, and other stakeholders to create a more prosperous future for the city.
Guymon is a graduate of the University of Arizona and holds a master's degree in public administration from Arizona State University. He is a native of Tucson and is active in a
number of civic organizations.
Guymon joined the Tucson Metro Chamber as VP in July 2018 and was promoted to executive VP in 2021. During his tenure, he has led the Chamber in its efforts to promote economic development, advocate for small businesses, and improve the quality of life in Tucson. He has also been a vocal advocate for education and workforce development.
Prior to joining the Tucson Metro Chamber, Guymon served as Vice President of Regional Partnerships for Sun Corridor Inc., where he worked to attract new businesses and investments to the region. He also served as Executive Director of the Metropolitan Pima Alliance, a regional planning organization.
"Michael Guymon is a proven leader who has made a significant impact on Tucson and the state of Arizona," said Edmund Marquez, Chairman of the Tucson Metro Chamber Board of Directors. "He is a tireless advocate for our community and our businesses, and he is well deserving of this recognition."
The Arizona Capitol Times 2023 Leader of the Year Award will be presented at a ceremony on September 26, 2023, at the Phoenix Art Museum.
The Arizona Capitol Times is a weekly newspaper that covers state government and politics in Arizona. It is the oldest and largest news organization in the state