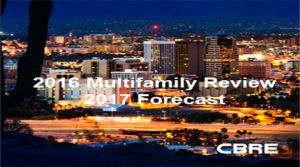 The CBRE Report highlights market data from 2016 and provides a look at what's to come in 2017, which illustrate a decreasing vacancy rate and increasing rents.
TUCSON, Arizona — The Tucson office of CBRE has released it's inaugural multifamily market report, which reviews market data from 2016 and provides a look at what's to come in 2017. Produced by investment specialist Daniel Wesson, the report contains the most current and comprehensive multifamily data from the Tucson area.
Overall vacancy in Pima County was at just 6.87 percent at year-end; this decrease in vacancy was driven by strong demand, which has supported increasing rental rates. In Tucson, rents have increased by 4.72 percent to $688 a unit. Out of state Investors have responded to these strong market fundamentals. In the past 24 months, 93 percent of buyers were from outside the Tucson area.
"With concessions dwindling, net rents are at an all-time high" noted Daniel Wesson, vice president. " As Tucson area employment continues to expand, we will see even more increase in demand."
In the near term, local employers are projected to create over 8,351 new jobs, a 2.2% increase from 2016.  By year-end 2017, the annualized vacancy rate is expected to fall to 6.2%, and rents will continue to make strong gains with a forecasted increases at 4.6%.
"Sales activity for 2017 has already started off strong, with nine completed transactions," said  Wesson. "Acquisition activity should remain high, if slightly lower than 2016."
To view Daniel Wesson's full Multifamily Report click here.