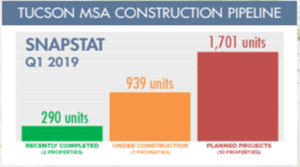 By: Roland Murphy, Director of Research, ABI Multifamily
Market slowdowns are inevitable at some point, and many thought leaders are projecting the next one could potentially start in the next 18 months — which, coincidentally, is within the general turnaround timeframe for projects in the final planning/construction commencement phase. As a result, many multifamily developers are starting to reconsider the actual ROI of their amenities offerings.
For several years, new community developers and renovation-minded investors have been building and rebuilding multifamily assets with a frantic, frenetic and frenzied eye toward keeping up with the Joneses as far as the latest, greatest and most in-demand amenities all throughout this so-called Decade of the Renter, fueled by shifting demographic mindsets and the market power of the Renter by Choice.
As the boom cycle enters what's likely its final stages before a brief moderation, now is the time to ask: To what degree is amenitization worthwhile, and what's the right balance?
Pickleball:
Essential Offering or Waste of Space?
Full disclosure: I freely admit my contempt for pickleball is irrational. It comes from being saturation bombed as a news editor with announcements that it was/is the coming thing and a nearly essential quality of life value add. While I have no inclination to play the game, I also bear no actual ill will toward its participants, advocates or participatory bodies. (So don't message me about it.)
That said, I think in a lot of cases facility design is a lot like fashion design. Designers come up with an "innovation" because it's fun to create, then shops end up with 200 pairs of bellbottoms (or six pickleball courts) and they have to be marketed as the new "must have" so they don't just sit and languish. As essential as quality design is, left untempered by pragmatic restraint, the field can generate startling feedback loops, thinking it's an Ouroboros when in reality it's a Null Set.
The most valuable amenities are the ones residents will actually use. Space-occupying, development dollar-hoovering, faddish add-ons like pickleball courts and misted running tracks may look great in the brochure, but are they worth the cost over time for construction and upkeep? In some instances, maybe. As a default, likely not.
If a feature isn't going to be regularly and fully used by a significant percentage of tenants, developers are really just paying for bullet points on the marketing page. Again picking on pickleball, which costs up to $75,000/per court to build, is that a best use for development or marketing dollars?
Putting this column together I read more than three dozen articles and surveys of both owner / developers and tenants. What struck me most, as it always does in these kinds of things, was the disconnect between what's being provided and what's desired by the user.
In order to differentiate themselves, developers and designers have gone hog wild with amenitization, including everything from meditation rooms, mini-soccer fields, putting greens and sky gardens into their projects. At the same time, they have been quietly adjusting layouts and floorplans to cut the square footage of living space to save on materials and labor costs.
That seems more than just a little bit backward.
Tucson Market Metrics: By the Numbers
(Data Source: RED Comps)
From the amenity-saturated to the bare bones, the Tucson market had a pretty solid First Quarter.
For 10-99 unit properties, Q1 saw $120M in transaction volume, a 5% Year-over-Year increase from Q1 2018. In the 100+ unit category, Q1 took in $176M, a solid 59% jump over 2018.
Average Price-Per-Unit amounts showed exceptional increases, rising 47% YoY to $71,546 for 10-99 units, and 111% to $132,685 for 100+. These translated to an Average Price/SF of $95.39 in 10-99 (up 20%) and $142.88 (up 69%) in 100+.
Inventory age got newer, with Average Year Built for 10-99 being 1974, compared to 1966 for Q1 last year. For 100+, the Average Year Built was 1988, or six years newer.
The market's occupancy rate remained high. Q1 occupancy for 10+ units was 94.6%, an increase of 0.4% Y-o-Y. Average rent was $879, up $57 from Q1 2018.
Tucson MSA demographics continued to look positive. The Census estimate of total population was 1,026,099. The unemployment rate finished at 4.4%, according to March's Bureau of Labor Statistics numbers.
Median Household Income was $48,676, and Per Capita Income came in at $27,323.
In the realm of new construction for 50+ unit properties, 290 units were delivered across two projects. Current projections show 1,701 total units in the Planning stages across 10 properties.
A total of 939 units were listed as Under Construction in 7 properties.
Pre-lease absorption was moderate across the region at a rate of five units/property/month.
Total Unit Inventory for 50+ came in at 69,292. View and download the full report here:  https://abimultifamily.com/?a=70DEBC8195E62726&/tucson-msa-multifamily-q1-2019
If You Build it They Will Come – Build it Right and They Will Stay
Of course there are, "Essential," "Nice-to-have," and, "What were you thinking?" classes of amenities. Not surprisingly, because they have become so standard over the past 40 years, swimming pools and fitness centers rate highly on the "essential" scale among surveys of prospective tenants, even though they have consistent usage rates of less than 10%.
Even on these default-standard offerings, I have to call shenanigans on this. When you're looking at markets where 6% describes both the maximum average vacancy and minimum average YoY rent growth, only active infestations of mutant rats hauling carts of demonically possessed cockroaches launching balls of asbestos steeped in anthrax actually warrant an 80%+ "deal killer" score.
Meanwhile, actual residents are looking for things like package delivery centers, apps that manage paying rent and scheduling maintenance/work orders, facility-wide network/cellular connectivity, customizable keyless entry, and open spaces with designated dog-friendly areas.
Some designers and developers are trying to create and deliver Adnan Khashoggi's yacht, whereas residents really just want a well-appointed hybrid Honda Accord — an ultra-reliable and well, but not ridiculously well, apportioned space — to meet their daily living needs.
A recent post on Apartment List's "Rentonomics" page offered up a great example, charting whether multifamily spaces in markets across the country had too many, too few, well matched or wrong amenities for renters' needs. In Phoenix and Tucson, the amenities came up wrong. In Sacramento, they were too few. Only San Diego had an apparent Goldilocks formula, landing mostly on the line between too few and well matched.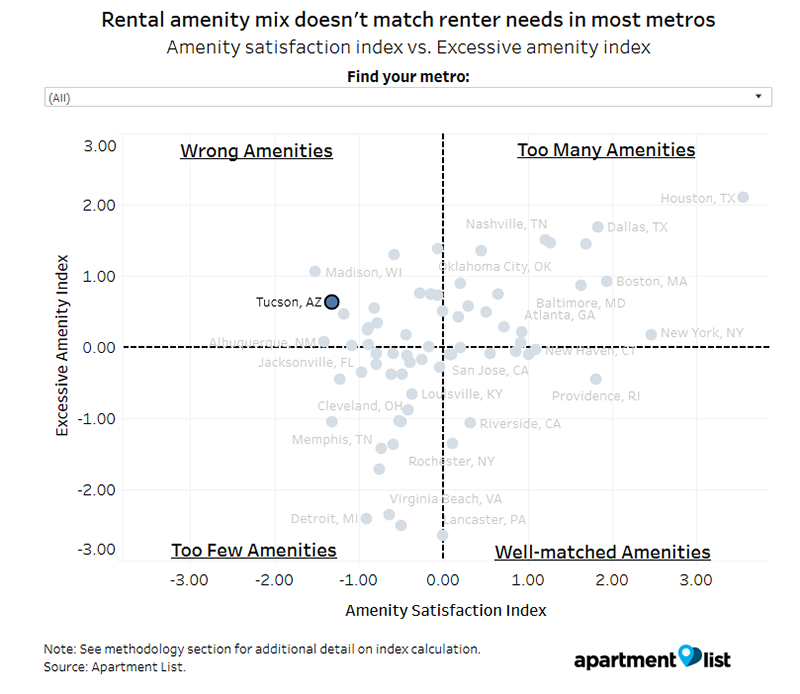 Perhaps the greatest example centers around one obvious quality of living value-add. Nationally, 87 percent of renters want it, according to multiple surveys, but only 13 percent of communities have it as a standard feature, according to Apartment List. It's not pickleball. It's not surround-sound equipped digital theaters.
It's not an onsite car wash, and it's certainly not a rooftop water park. It's in-unit washers and dryers. The national spread between desired by tenants and offered by properties is -40%. The gap in Phoenix is a whopping -53%. In Tucson it's -48%. Sacramento comes in at -48%, and San Diego is at -44%.
Forget zipline courses, adventure rooms, performance stages and artist-in-residence programs. If you want to keep tenants happy, let them pay their rent with the push of a button, pick up their Prime packages on the way to their units, open their door without fumbling for a key, buzz in visitors from their phone, and wash their bellbottoms without leaving the comfort of their globally connected homes.