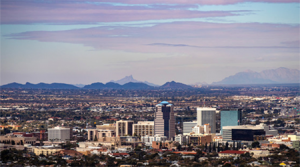 Tucson, AZ –  Tucson ranked ninth on CBRE's list of up-and-coming North American tech-talent markets on CBRE's annual Scoring Tech Talent report, which analyzes 75 U.S. and Canadian markets according to their ability to attract and grow tech talent. Tucson's total tech employment has grown by 47 percent in the past five years and its tech wages increased by 13 percent.
The report found that most of these emerging tech markets were concentrated in the Midwest and South and had expanded their tech talent growth by double digit percentages in the past five years.
These up-and-coming markets are separate from the 50 larger tech markets that CBRE's report ranks in its Tech Talent Scorecard. In contrast, the 'Next 25' up-and-coming markets are ranked by a narrower set of criteria than the top 50, including tech talent supply, wages, tech-talent concentration, recent tech talent growth rates and their outlook.
Numerous indicators underscore the resilience of tech talent during COVID-19. These occupations registered job growth of 0.8 percent in 2020 in the U.S. while non-tech occupations declined by 5.5 percent. Software developers and programmers were the most in demand tech-job category last year, adding 85,000 U.S. jobs for a 4.8 percent growth rate from a year earlier. Beyond the tech industry itself, those that added tech workers last year include financial activities, professional & business services, and government.
The leaderboard of the 'Next 25' markets is filled with markets that have posted double-digit growth in tech jobs since 2013.

Tucson also stood out in the report in other key areas:
Tech wages averaged $85,786 in Tucson last year, an increase of 13 percent over the past five years.
The narrower category of software-developer wages averaged $96,868 in Tucson last year, up 20.5 percent over the past five years.
Tech degree completions in Tucson totaled 1,238 in 2019.
To download the report, click here.