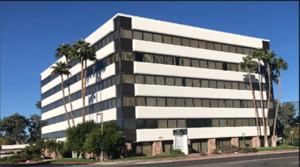 TUCSON, ARIZONA – The single tenant office building at 101 N Wilmot in Tucson sold for $18.1 million ($184 PSF) to Oregon-based PPHC Wilmot, LLC and HHP Wilmot, LLC, affiliates of Pinnacle Properties Holding Company, LLC.
It is the 5th highest office building sale in the past 3 years for metro Tucson and the largest so far this year.
The 98,276-square-foot office building was occupied by a single tenant, Rincon Research Corporation, a defense and intelligence contractor for the US Government, at time of sale.  The lease was renegotiated with the new owner while in escrow.
Situated just north of Broadway Blvd and Wilmot Rd.,  this Class "A" six story, office building is positioned in Tucson's dynamic East Central Office Submarket.  A submarket area that contains approximately 45% of all of the available office space in Tucson.  It is surrounded by other mid-rise office buildings with occupancy rates in the mid to upper 90% range.
Mark Irvin, CCIM, SIOR of Mark Irvin Commercial Real Estate Services in Tucson along with an assist from Craig Coppola, CCIM, SIOR, with Lee and Associates Arizona in Phoenix, represented the seller, 101 North Wilmot LLC of Tucson (Mark Rubin, trustee)
"The 3rd time was the charm as the property had been in escrow twice before to a different buyer," Irvin said. "This was an excellent opportunity for an out of state 1031 Exchange buyer who saw the value in a property with a strong defense contractor and a property, that with a structured parking garage, could double the size of the building.
The buyer was represented by attorney, Tim Dozois of Eugene, Oregon.
Rene Moody with First American Title's Portland office handled the closing. This was the first of what will be many closings they will handle for the buyer.
For more information, Irvin should be reached at 520.620.1833 and Coppola can be contacted at 602.694.5500.
To learn more, see RED Comp #7480.