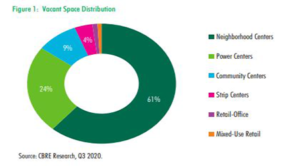 CBRE is reporting, the Tucson retail market began strong as retailers absorbed space pushing vacancy down. However, as uncertainty grows, the third quarter vacancy rate increased quarter-over-quarter as the pandemic continues on. Aside from the last four quarters, the current Tucson retail vacancy rate remains the lowest since Q3 2016. The rolling average over four quarters sits at 7.5%
The Tucson retail streak of positive net absorption was snapped shy of five consecutive quarters of growth, ending the third quarter with -276,517 SF. Tucson retail vacancy also increased quarter-over-quarter to 8.3%, up 120 basis points. This is an increase of 70 basis points when compared to the third quarter of 2019, when the vacancy rate was 7.6%.
Construction has been stagnant for several quarters, forcing tenants to look at existing space available in the metro. With grocery stores leading leasing in Tucson, the trend of redevelopment of former big box spaces will have continued interest in the Tucson submarket.