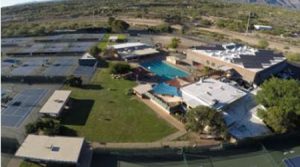 TUCSON, ARIZONA (June 9, 2023) -- The Tucson Racquet and Fitness Club (T.R.F.C.) sold to an affiliate of James Tofel of Tofel & Dent Construction for $2.471 million ($81 PSF). The 30,486 square feet in multiple buildings sits on just under 20 acres by the Rillito River at 4001 N Country Club Road. The sellers were William, Jeffrey, and Alexandra Selby.
Since 1967, T.R.F.C. has offered the finest quality tennis instruction and Tucson's most comprehensive tennis and wellness facility.
In addition to many amenities, including 30 tennis courts, 12 lighted pickleball courts, 11 indoor racquetball/handball courts, aerobics/yoga classes throughout the day, two 75-foot heated junior Olympic pools, basketball and volleyball courts, and more, the T.R.F.C. offers a complete fitness experience with an outstanding instructor-to-student ratio, two Jacuzzis, a steam room, and a sauna.
James Tofel's grandfather, Joseph "Joe" Tofel, a successful Tucson entrepreneur, saw the need for a Tucson Racquet Club in the 1950s and started with leased land where the El Con Mall now stands on East Broadway.  Then in 1967, Tofel launched T.R.F.C. and built the new facility where it stands today on the bank of the Rillito River and North Country Club Road. Joe Tofel passed away on April 4, 2008, at age 89.
T.R.F.C. grew to 34 tennis courts quickly and became the first tennis ranch in Arizona. James Tofel told us it was the largest tennis camp in the nation at the time for its first 50 years, and he has plans to modernize and update the facility for the next 50 years.
"Everyone who has been in Tucson for any time has a story or two to tell about from the Tucson Racquet and Fitness Club," Tofel said.

"Membership dropped significantly during the pandemic, and although recovering, it is still off by 20%," Tofel continued. "That should change quickly as we begin the improvements. We're already getting a great response from members coming back."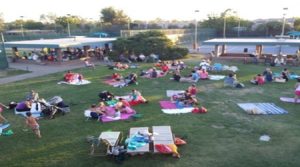 First, we will attend to the deferred maintenance and focus on back-office needs for updated computers and software.
The club is open 24 hours and is well-known for its Clubhouse restaurant and bar and Friday night barbeques. From May 5 thru September 29, from 5:30-8:30 pm on Fridays, the club features a line-up of Tucson's favorite bands while enjoying a barbeque in a safe, friendly atmosphere. Open to non-members for only $6.00 and members at no charge.
The public is also welcome to the fully stocked pro shop, massage therapists, nutrition experts, and personal training professionals.
For more information do to https://tucsonracquetclub.com/
To learn more, go to RED Comp #10690.