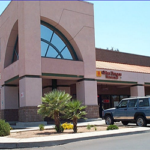 TUCSON, Arizona –  An investment group from Conroe Texas traded into the inline shops at Midvale Park Community Shopping Center at 1625-1645 West Valencia in Tucson. The property commanded a sale price of $6.9 million ($235 PSF).
The center is located across the street from the newly constructed 104,479-square-feet Fry's store that opened Q3 206, with a 7,800-square-feet of inline shop space under construction, and mostly pre-leased by Rick Volk and Brenna Lacey of the Volk Company to Nationwide Vision, Great Clips and Lee Spa Nails. See Two Pads Sell for Construction at New Fry's Center on Valencia.
To the west of the Midvale Park Community Shopping Center, a Tractor Supply store is being constructed as reported last week. See Tractor Supply Expands with 4th Store in Tucson Metro.
Planning at 1955 W Valencia, located at Headley and Valencia,is under way as part of a 75,000-square-foot retail center with pads when complete at this 11.38 acres. See New 75,000 SF Shopping Center Coming to Southwest Tucson.
Valencia is a main arterial road serving the Southwest Tucson submarket with approximately 50,000 average vehicles per day. Neighboring tenants in Midvale Park include Walmart Supercenter, Lowe's, several banks and many restaurants.
Development is pushing even farther west from Midvale Park along Valencia, Circle K Stores just closed on a 61,453-square-foot lot for $1 million ($16.27 PSF) at the northwest corner of Valencia and Camino de Oeste, for a new store site.
The 29,365-square-foot of inline space at Midvale Park Community Shopping Center was built in 1988, and sold fully leased with such tenants as Little Caesar, Super Pawn, Tucson International Academy, The UPS Store, Metro PCS and El Taco Tote.
Wilcox Center II, LLC of Tucson (Neil Kleinman, manager) the seller, owned the property since 2004.
Gordon Wagner and Dave Dutson with NAI Horizon in Tucson were brokers involved in the transaction and Valerie Skylar with Partners Management in Tucson will continue to manage the property.
For additional information, Skylar can be reached at 520.745.6221. Wagner is at 520.398.5130 and Dutson can be reached at 520.326.2200.
To learn more, see RED Comp #4563 and #4579.