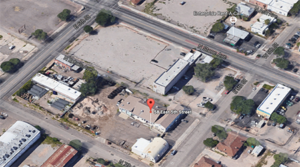 Seventh Avenue Commons next workforce housing project planned for Tucson Streetcar Line
TUCSON, AZ -- Gardner Capital Development in Arizona purchased approximately 52,100-square-feet of land along with improvements at 58 E. 5th Street and 546 N. Stone Avenue from 5th-7th Center, LLC (Ann Moushey and Carol Plagman, managers). The purchase price was $1.7 million ($32.63 PSF).
The buyer has been awarded a reservation of Low Income Housing Tax Credits from the Arizona Department of Housing (ADH) competitive application process to develop 7th Avenue Commons, a $14 million workforce housing project consisting of 50 one- two- and three-bedroom apartments for families, located at 529 North 7th Avenue, adjacent to the West University Historic District.
Construction of the units will begin in the first quarter of 2017, with completion expected in the first quarter of 2018. Reid Butler will serve as project advisor for Gardner Development. Neighborhood Housing Solutions, a nonprofit organization, as the co-developer. When completed. The Arizona Department of Housing will serve as project manager. Over 10 years, Gardner will receive $11,498,920 in Low Income Housing Tax Credits from ADH.
"Our mission is to catalyze community revitalization and economic opportunity through the creation of high-quality housing for many income levels," said Scott Puffer, senior vice president of development for Gardner Development, Midwest Region. "Seventh Avenue Commons will combine new construction and adaptive reuse to create workforce housing near transit, jobs and community amenities. We are thrilled to be part of this effort in Tucson."
When completed, 7th Avenue Commons will consist of 50 one- two- and three-bedroom units, 27 of which will be developed within the existing warehouse/office buildings. The remaining 23 units will be located in a newly constructed three-level building that will also include a screened parking level on the first floor. An outdoor multi-purpose court and play area for the residents and their families will also be included in the community. Landscaping and public art will adorn the completed property. All 50 units can be leased to residents earning at or below 60 percent of area median income. Once completed, NHS will be using the on-site clubhouse and community center to provide supportive services to the residents.
Randy Emerson of GRE Partners, LLC in Tucson represented the developer through the 18 months for ADH project approval to close.
"The workforce housing funding is a very competitive process," Emerson said. "Proximity to the streetcar line resulted in scoring the project successfully to be awarded this tax credit."
Kitchell Construction of Phoenix will be General Contractor and Biltform Architects of Phoenix, the Architects on the project.
For additional information, Emerson should be contacted at 520.777.4949.