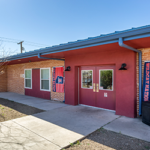 TUCSON. Arizona  – Located less than one half mile south of The University of Arizona Campus, Cherry Park Studios student housing complex closed for $2.695 million ($165.32 PSF / $158,500 per unit).
Cherry Park Studios consists of 17 student housing apartments. The property was originally built in 1952, then expanded by the American Red Cross in 1985. Roja Cruz Apartments, LLC purchased the building in 2012 and completely gutted it, leaving only the original brick walls and rafters. Renovations were completed in 2013. The property was 95% occupied at close of escrow, with 40 of 42 beds currently rented by students at The University of Arizona.
Zack Mishkin and Jamie Canute at ORION Investment Real Estate represented the Seller in this transaction – Roja Cruz Apartments, LLC, an Arizona entity. Nevada-based Riverhill Drive, LLC was the Buyer, represented by Chris Cunning at Marcus & Millichap out of Las Vegas.
"CPS was one of the most unique properties I've had the pleasure of listing," Zack Mishkin said. "The Owners took an abandoned Red Cross building and turned it into a premier luxury apartment complex, catering to students at the University of Arizona. The beautiful design, unique character, and meticulous craftsmanship helped us obtain a benchmark price of over $158,000 per unit. It is a spectacular trophy property that any owner would love to have in their portfolio. We had a blast marketing this property and obtaining a huge figure for the Seller," Mishkin continued.
For more information Mishkin can be reached at 480.634.6934 and Canute is at 480.634.6934. Cunnings should be contacted at 702.215.7116.
To learn more, see RED Comp #4383.