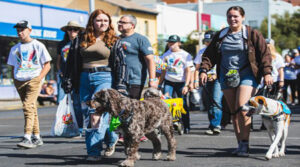 Pima County – October 10, 2023: On Feb. 18, Tucson's 4th Avenue District once again 'goes to the dogs' … not to mention cats, birds, reptiles, goats, pigs, and more. In addition to thousands of adorable pets, the 3rd annual Tucson Subaru Pets of Pima Paradewill feature bands, floats, entertainers, costumed characters, classic vehicles, and other entertainment.
Last year, 30,000 people flocked to 4th Avenue for this one-of-a-kind experience.  The Parade is produced by Friends of Pima Animal Care Center to raise awareness and support for the pets and programs at Pima Animal Care Center.
The Parade takes place from 10 to 11:30 a.m., followed by the Friends of PACC Festival along 7th Street and 4th Ave. The Festival will feature live entertainment and contests on the Tucson Federal Credit Union Stage as well as the HSL Properties Adoption Extravaganza, Fun Zone, and large vendor fair with pet-themed arts and crafts.
Registration for the Parade is now open and pet families are encouraged to join the fun. Dogs and families walk in the Raising Cane's Procesión de los Perros. Cats and their people join the TEP Cat Convoy. The Pet Pride procession is for all other pets and mix-pet families. Participants are asked to raise $50+ in support of animals at PACC. Kids 17 & under can register for free with their families, making the Parade a fun outing for the whole family. Businesses and organizations are encouraged to join the Parade as well, either by hosting a Pack (team) or float.
Be among the first to register with family, friends, and co-workers at www.petsofpimaparade.com.
The Parade is made possible through the efforts of the Friends of PACC Parade Organizing Committee and support from Tucson Subaru, Tucson Federal Credit Union, Raising Cane's, Central Pet, HSL Properties, Tucson Electric Power, One Hour AC & Heating, Better Business Bureau of Southern Arizona, Comcast, University of Arizona College of Veterinary Medicine, Fox11/My18, iHeartMedia, Arizona Daily Star/Tucson Media, The Tucson Dog Magazine, Arizona Music Connection, Fourth Avenue Merchants Association, and Tucson Comic-Con. Additional sponsorship opportunities are still available.