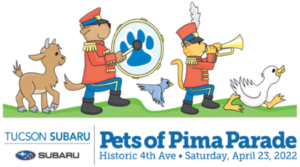 PIMA COUNTY, ARIZONA – Friends of Pima Animal Care Center kicks off an inaugural parade to support pets in the Pima County community. The Tucson Subaru  Pets of Pima Parade (POPP) will happen on April 23, 2022. The route travels down Historic 4th Avenue in Tucson.
The Parade will also serve as a fundraiser, with proceeds supporting the lifesaving work of Pima Animal Care Center. Community members are invited to support PACC and join the Parade with their pets of all shapes, sizes, and species. Pet owners can sign up here.
For people whose pets are homebodies or think that a parade environment might be overstimulating, they can order a "Petsicle," a free 9x9 inch picture of their pet attached to a popsicle stick, by sending an email with a headshot of their pet. Further instructions for this free item can be found during registration at www.PetsOfPimaParade.com.They will be able to pick up the Petsicle during pre-check-in at Tucson Subaru, 4901 N. Oracle Road, between 2 and 6 p.m., and on the day of the Parade, people will be able to grab them at check-in, 7-8:30 a.m., at 3rd Ave west of Tucson High School.
Canines and their people will walk in the Raising Cane's Procesión de los Perros, while felines and their humans are welcome to walk or ride in the TEP Cat Convoy. Not to be excluded, all other pet types including pigs, goats, reptiles, birds, and pocket pets will be featured in Casino Del Sol's Pet Pride procession. All segments of the Parade are happening on 4th Ave. In addition, POPP will feature traditional parade elements such as bands, classic cars, costumed characters, entertainers, fire trucks and much more.
Immediately following the parade will be 4 Legs on 4th, a festival featuring family-friendly activities up and down 4th Avenue. Activities include the HSL Properties Adoption Extravaganza, live music, HBO Max Pipes n Paws Car Show, and kids court at Haggerty Plaza, 316 4th Ave, between 7th and 8th St.
Leading the Parade will be 2022 Grand Marshals Erin Christiansen and Call of Duty Rex, a Belgian Malinois adopted from PACC by Tucsonan Erin Switzer. Since his adoption from PACC, Rex has gone on to appear in commercials, video games, magazines, and movies.
In addition to Tucson Subaru, several other businesses are stepping up to help pets in Pima County, including Central Pet, Tucson Electric Power, Casino Del Sol, Copper Dog Scotch Whisky, HBO Max, HSL Properties, Tucson International Airport, 4th Avenue Merchants Association, iHeartRadio, FOX11/MY18, Arizona Daily Star, Geico, Tucson Comic Con, Sunlink, Republic Services and No Discriminations Car Club.