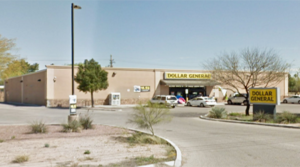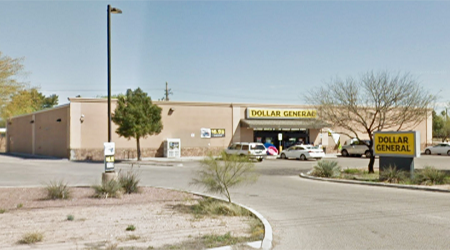 TUCSON, ARIZONA – A California investor, Cheynne Properties, LLC purchased the Dollar General at 5697 South Alvernon Way in Tucson for $1,530,000 ($164 PSF) from San Miguel Investments, LLC of Colorado (Fred & Judy Ingelhart).
BJ Feller, Jake Hamilton and Pat Weibel with the Stan Johnson Company of Chicago handled this transaction for the seller. The buyer was self-represented.
Dollar stores have represented an important niche within the net lease sector this year, as they were considered essential retailers during the COVID-19 pandemic. Investors, especially those in 1031 exchanges below $2.5 million, pursued dollar store assets over other net lease options as dollar stores were open for business, experienced high sales volumes and had financing available.
"1031 investors with lower absolute dollar amount exchanges continue to flock to this sector," Feller told us. "Net lease investment these days is a tale of two worlds. Those assets that people don't want and those they do want, such as dollar store properties that offer long-term leases to investment-grade tenants and higher cap rates compared to the overall net lease market."
"Other net lease properties in high demand these days are gas / convenience stores, grocery stores, medical related tenants, and to a lesser degree, quick service restaurants," Feller said.
Increased demand for this dollar store sector is the primary contributing factor for the decrease in cap rates. Furthermore, the median remaining lease term for available properties during the second quarter increased by one year to approximately 11 years.
As dollar store retailers continue to perform in all types of economic environments, investors of all classes will continue to seek out these investments.
A recent poll conducted by The Boulder Group illustrated the majority of net lease participants (62 percent) expect dollar store transactions to increase in the last two quarters of 2020 when compared to 2019. New construction dollar stores will remain in the highest demand, and the national expansion plans of the dollar store retailers will keep supply up regardless of their heightened demand.
Cap rates for Dollar General, Family Dollar and Dollar Tree compressed by 15, 10 and 7 basis points, respectively; to a reported 6.98 percent in the second quarter of 2020 when compared to the second quarter of 2019.
For more information, Feller should be reached at 312.240.0194.
To learn more, see RED Comp #8046.