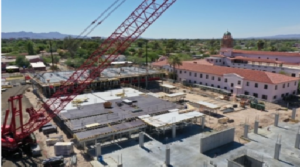 From Tucson Councilman, Steve Kozchik's Newsletter
TUCSON, ARIZONA — In the midst of the pandemic, and our 100+ degree days, the construction is continuing over at the Benedictine. I've spoken with the Project Manager on the site several times and know that Sundt is conducting wellness checks daily on all of their workers. In fact, they're spending quite a bit of money doing that. (I also know JE Dunn is also doing it on a job I'm overseeing on the UA campus. The goal is to make sure your workers aren't bringing COVID onto the worksite.) So far, so good.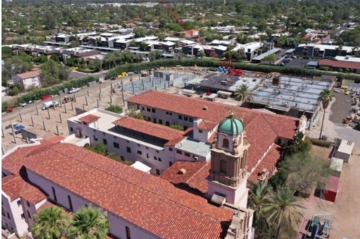 These images show work that's going on at the southern section of the site. What you see will be the 4 story condo buildings. The height is capped to be sure they won't obliterate the view of the monastery.
There will be similar construction happening on the northern edge. The cement you see in the lower right-hand corner of the picture is the foundation for the condo's that'll be on the eastern edge of the site.
I've spoken with Ross Rulney (the owner) about uses he's thinking about for the interior. Early in the process, and allowed by our rezoning, there was talk of doing modifications to the interior and adding some more living units. While everything is still subject to change at this early stage of the project, the current thinking is to use what was once the nun's quarters and meeting spaces for some shared workspaces that have become so popular. The sanctuary is still possibly headed towards being a food service use. Downstairs may contain some amenities that'll be used by the tenants in the condos.
Right now, the construction is on schedule for completion mid-'21.