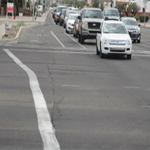 After a Citizen Task Force meeting for over two years, 38 meetings in total, 1,500 volunteered hours, to give input to the Mayor and Council on recommendations, Tucson Mayor Council voted unanimous approval to proceed with the Broadway Widening Project this past June. The vote was not a final acceptance of the project baseline alignment but an approval to proceed with the integrated planning that was able to be put into the hands of the City Transportation, Planning & Development, the City Real Estate Department and the Regional Transportation Association (RTA), allowing some hope of stability for property owners and businesses along the corridor for future planning.
The project team has held five Acquisition 101 meetings for the Grant Road and Broadway Boulevard corridors and have received positive feedback from these meetings with an overall rating by attendees of 4.3 out of 5. The Acquisition 101 presentation is posted online at the Broadway website, as well as additional real estate handouts and information.
Over 80% of the property and business owners who received a Relocation Planning Letter have completed their interviews with Tierra Right of Way to-date.
The 30% Plan will be posted on the BroadwayBoulevard.info website on March 14, 2016. Comments can be submitted via the website at https://broadwayboulevard.info/comments.php. A hard copy of the plan will also be made available at the Ward 1, 5 and 6 offices for viewing.
An Open House for the public to view the 30% Plan has been scheduled for March 29, 2016. This will be an opportunity for the community to meet with various members of the design team to ask questions and receive information. The location will be at the Sabbar Shrine Temple, 450 S. Tucson Blvd., starting at 5:30 p.m.
Comments on the 30% Plan will be received and reviewed by the project team through April 15, 2016. All comments received by April 15 will be provided to Mayor and Council, with responses as necessary, at their April 19, 2016, meeting.
James MacAdam, the City of Tucson's Broadway Boulevard Ombudsman, is still meeting with interested property owners along the corridor. Please contact him for questions or need to discuss your property, at (520) 837-4068 or email at James.MacAdam@tucsonaz.gov.
The City and Project Team also continues to work closely with the MainStreet Business Assistance Program, which assists business owners with issues related to potential construction impacts.