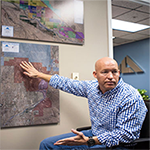 By: Will White, Land Advisors Organization Tucson
TUCSON, ARIZONA — 
(Editor's Note) 
In 
Q1 Real Estate Daily News
began publishing "Tucson's Land and Housing: 2020 and Beyond", a 5-part series written in conjunction with Will White of Land Advisors Organization-Tucson. The focus of the series is to provide an insightful look into the various components driving Tucson metro's successful, but complex, land and housing market. Will has been a Land Broker in Tucson for over 20 years and currently represents many of Tucson's most successful master-planned communities and large-scale residential projects.
For the first time in the series of installments here, we have a similar theme to the last one and that is a big positive. 2020 has been an amazing year of volatility and surprises. As we reflect on it so far it is even more impressive to see how the housing market has thrived in a macro atmosphere that has lacked so much clarity. The acceleration of the housing market in Tucson is not a total surprise as we feel that the fundamentals have been assembling for many years here. As expressed in earlier installments, what we are experiencing is a perfect storm of these building components over years in combination with historic low interest rates and a renewed focus on "home". 2020 continues to impress in the homebuilding arena across the country, in Arizona, and definitely in the Tucson metro area. With home sales continuing to support the land acquisition strategies we are seeing, increased demand on many fronts, and a historic supply problem of land and housing stock, this situation looks to be favorable for a busy 24 months in Tucson.
2020 review
Most everyone we discuss the current state of the land and housing market with describes the year as a "head scratcher" with no one ready to give a great answer of how we got from pandemic to a great market and absolutely no one ready to predict the future of things with so much uncertainty. If we look back into March it looked bad, the homebuilders paused all risk associated activity. From land spend, vertical construction, to overhead costs. An overall assessment of cash control in a market that looked like things were about to get very painful. It went from bad to looking terrible. Then everyone waited and watched to see how homebuyers would react. Slowly but surely sales continued, and it improved rapidly into April.   It was about this time that any paused land deals were back on the table to close as it was evident that sales were not being affected. Then we entered May and June and record sales came out of nowhere to the delight of Tucson homebuilders. This surge in sales activity caused the builders to reassess their land positions and revise their growth projections locally. This required that they buy another round of land deals. As June and July came around it was clear that sales were not going to slow and despite overall macro conditions and unknowns, homebuyers were out in full affect. The "head scratcher" became the fact that now we have gone from a terrible outlook to one of the best years in Tucson housing in more than a decade in about 5 months. The continued pace and price increases that were seen by the homebuilders forced them to look once again at the inventory and ability to meet demand and grow also required them to make a third round of orders for lots into August. The majority of these orders in Tucson are pending at this point and the only real reason they are pending and not closed is that this caught the industry by surprise and there is a mad scramble in many professions to accommodate this rapid pace.
Supply/Demand Equation:
In past installments, I have touched on the supply problem many times. The positive swing that the market has experienced caused a large amount of analysis as to how, in a pandemic, is housing and land thriving. Mortgage rates were a big topic, but underneath it was a bigger driver and that was a lack of overall supply to feed demand. What is key to keep in mind is that this heated market is not like the last cycle in 2004-2006 and the key is supply. Tucson had a huge supply of new homes, lots, and resale homes available last time.  Rates/Demand can move based on economic conditions and policy that can change quickly in this type of environment. A battleship that is difficult to turn around is "supply". To increase resale supply, you would have to motivate people to put their homes on the market in an era where most people are at home more often. To increase new housing supply, you would have to find new labor and trades quickly and that would take a long effort on many fronts. To increase new home supply, you would also need to have more lots available to open communities. As we look at these factors, it would take a long time to shift mentality of the average homeowner to want to add a tremendous amount of supply to MLS, labor and trade availability would take years to over stock, on the land front, Tucson was at a historic shortage before COVID and with communities selling out and no infrastructure available on a large scale, it would be years to produce a sufficient amount of lots for the market. In summary, it appears that Tucson will remain undersupplied for a long time. Demand can come and go but if it continues at this record pace then expect some healthy conditions and a bunch of work for everyone. Demand drives markets and demand is coming from low rates, low resale options, migration from other cities, work from home lifestyle, and other unanticipated factors. Tucson supply problem (in all categories) has been evident for years but now is exacerbated with this rapid increase in demand.
Pulling the market forward
As we have studied 2020 and worked to come up with some going forward opinions, it has become very clear that the 180 degree turn of the market sentiment and activity from March caught many on their heels. Homebuilders have been forced to not only fill a 2020 business year, but because of the feverish demand but to begin pulling a lot of the 2021 market into 2020. This is in the form of additional homes constructed and sold and, in turn, additional lots orders than expected. This has a big effect on a market like Tucson as it forces a scramble to accommodate an unexpected level of demand. Builders are working to regulate sales in the event they cannot get homes built due to labor constraints. Developers did not anticipate new phases of projects being ordered and are working quickly to engineer new lots and get approvals on plats that were expected to be offered and sold in 2021. Engineers and municipalities are being rushed with applications and requests at a higher volume than they were prepared for. What this means to the market is that, while everyone welcomes the business demand, things can get backed up quickly and we are seeing some signs of that.
Infrastructure Watch:
Another challenge to pulling things forward is that Tucson's lot supply and infrastructure availability was historically tight to begin with, this has put many large communities facing sell out of their land years earlier than their models had shown. If this is the case, then Tucson's next chapter in the various submarkets will be called "Infrastructure: needed it yesterday" Infrastructure has long been the key to how Tucson grows. Since the last downturn and recovery, it has been extremely difficult to design and construct major infrastructure projects to unlock potentially 20-30,000 lots in the Tucson metro area. Adding to the pain of this challenge, horizontal costs have spiked in the past 3-4 years making it substantially more expensive. The surge in activity has now highlighted an issue that was already problematic. Infrastructure is challenging to fund, and once funded, takes TIME to design and construct. This is one of the main reasons that Tucson is dwindling in community counts every year. there and if demand is not met then you may see a traffic jam of activity that is also historic.
Going Forward:
It is great to report such positive news in a year that has lacked so much clarity. As we head into Q4 we have some huge events left to unfold for 2020. In our discussions, the Tucson market will remain reactive to homes sales and consumer sentiment. There will be a lot of catch-up work done to properly supply the market going forward and that will continue for some time. Increased staffing at all levels to handle increased workload will be critical going forward to ensure that business can continue uninterrupted. Tucson metro reacts well, and we are seeing that on many fronts. A lot of people in this industry have waited for a market like this and the real goal is to stretch this out as long as possible. As this market evolves, the best thing everyone can do is continue working to capitalize on the good news.  2020 continues to be of one of the strangest years but also affords us one of the most prosperous outlooks in Tucson's history. See the three previous editions  of
Tucson Land and Housing: 2020 and Beyond
series here:
Part 1,  Part 2, Part 3.