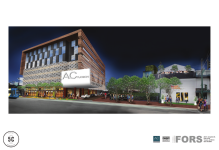 Developer Scott Stiteler and partners want to build an 8-story, 150-room AC Marriott Hotel at 5th Avenue, between Broadway and Congress in downtown Tucson. The Rio Nuevo Board had been working on this public-private partnership (P3) project since July, 2013 and on Monday, history was in the making as the Rio Nuevo Board approved this P3 hotel project.
It does seem ironic that with the mandate for a district hotel about to be lifted with the passage of SB 1351, that it is now a P3 project for a hotel comes together. However, it was started long before anyone knew the law would pass.
The deal itself is a little complicated, as most public-private partnership are, and the Rio Nuevo board members spent several hours in discussion, asking questions of legal counsel and Stiteler before being assured the taxpayers would be secure – no matter what happened.
Here's how it is structured: Rio Nuevo agrees to buy the hotel's parking structure once complete for $4.3 million in a sale / leaseback agreement with developer. Secured by approximately 200 parking spaces and leased to the hotel for $80 per month per space with escalations up to $100 per month over a seven year term with renewals. The developer can purchase the parking garage in those seven years using a complex formula that equates to 50% of the rent paid Rio Nuevo and a contingency that TIFF revenues from the hotel are 3 times higher than rent. The price to extend the option purchase past seven years is an additional $1 million.
The parking garage is to be built by the developer and transfers to Rio Nuevo only after certificate of occupancy is obtained. That could be as early as two years from now when Rio Nuevo would actually make payment of the $4.3 million for the garage. The leaseback payments start 6-months after close of escrow and is a true triple net lease, with developer responsible for all operating and maintenance costs of the garage. Full terms and conditions were laid out in a 40-page document between Rio Nuevo and hotel developer including all the various "what-if's" scenarios.
The land costs for the 25,000-square-foot lot and construction will probably exceed the $4.3 million Rio Nuevo is paying, with no other costs passed on to the District. The construction cost for the whole package is nearly $32 million, with most of the money coming from the developer and an $8 million HUD loan.
The lease rate per space provides income to Rio Nuevo at rates higher than normal in the central business district. Stiteler reported that Depot Plaza is leased at $60 per space per month and Plaza Centro is $70 per space. Both are City operated and maintained, while the hotel parking will be lessee maintained and operated.
Stiteler claims, "The hotel will create 220 new jobs downtown and more than 220 construction jobs plus multipliers."
With Rio Nuevo approval in place, Stiteler is seeking the City of Tucson approval at its June meeting. The project already has approval from Marriott for the hotel, HUD loan approval contingent upon the City of Tucson, GPLED and tax incentives for sidewalks and Arizona Avenue are being requested of the City. Stiteler feels optimistic it will all come together, "We've come a long way and I'm eager to build this hotel in this community," Stiteler said.
The developer behind Proper, Diablo Burger, Hub, Sparkroot, Playground and other popular locations downtown, Stiteler has been a placemaker for downtown for some time, developing and promoting the downtown core as a truly urban destination that models the live, work, play ideal.
As Mark Irvin, Secretary of the Rio Nuevo Board said after the meeting, "This deal really makes sense; I'm proud we voted to move forward."
For AC Hotel marketing brochure click here: ac hotels