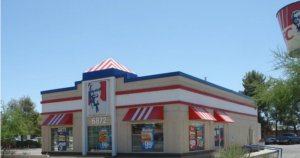 TUCSON, ARIZONA – The KFC leased property at 6872 E. Tanque Verde Rd in Tucson was sold to a local investor, Dahlstrom 9872 Tanque Verde, LLC (Terry Dahlstrom, manager) for $592,262 ($326.50 PSF). The 1,814-square-foot building was built in 1992 with drive thru on a 15,246-square-foot lot near Country Club Estates, close to Grant and Kolb intersection, and the newly extended Sabino Canyon Road.
The seller was an individual investor from Derry, PA, was represented by Ben Craney and Gordon Wagner of NAI Horizon and the buyer was represented by Terry Dahlstrom of the Volk Company.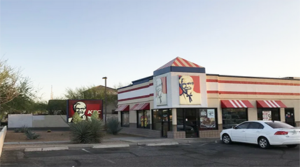 A second KFC leased property sold at 5010 S Campbell Ave. in Tucson to Tempe-based OneTen REI Main, LLC for $750,000 ($282 PSF). This 2,656-square-foot building with drive thru was built in 1998 on a 28,314-square-foot lot at Campbell, south of Irvington.
Jeramy Price with Volk Company represented the seller, QuanAnhdal, LLC of Tucson (Quan Le, member).
For additional information, Craney and Wagner can be reached at NAI Horizon in Tucson, 520 326 2200. Dahlstrom and Price should be contacted at Volk Company in Tucson, 520.326.3200.
To learn more, see RED Comp #6558 and #6570.