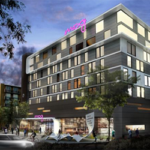 TUCSON, Arizona — Enhancing Downtown Tucson's continued rapid growth, the Rio Nuevo Board provided major assistance Tuesday, February 28 for two new proposed downtown hotels – creating an agreement that will allow both developers to move forward quickly with their projects.
Even before the AC Marriott at Broadway and 5th Avenue opens, Marriott has committed to a second hotel just a block away with the same development team. Scott Stiteler announced a 100-room Moxy Hotel to be located above the Depot Garage just west of Hotel Congress at 45 N. Fifth Avenue. The Rio Nuevo Board agreed to a maximum of $5.7 million by 2025 in sales tax revenue being retained by the developer to assist the $24 million project.
Moxy is Marriott's newest brand, also a boutique hotel. Marriott calls Moxy 'a hotel with the social heart of a hostel, a free-spirited place where you can do all that crazy fun stuff you'd never think of doing at home, together with like-minded spirits you'd otherwise never meet'.
Under construction and an anticipated opening for August 2017, the 8-floor AC Marriott Hotel (located directly behind HUB Restaurant & Ice Creamery) will feature 136 rooms, restaurant with full bar, fitness center, rooftop pool, valet service and built-in parking. See Lloyd Construction's time lapse of AC Marriott Hotel construction in Downtown Tucson here:
Another sign of the continued national interest in Downtown Tucson's vibrant evolution, Caliber Hospitality, based in Scottsdale, plans to build a 125-bed hotel in the east parking lot of the recently remodeled Tucson Convention Center. The board agreed to a minimum of $2.5 million in sales tax revenue to be retained by the developer.
Guests at these downtown hotels will be able to hop on the Tucson Streetcar to get to restaurants, shops, museums, Mercado San Agustin, and the University of Arizona.
The Rio Nuevo Board at its meeting approved term sheets that would provide for both hotel developers to be rebated their portions of the TIF state sales tax. The two hotels would add an additional 225 rooms in downtown.
"We're making the difference," said Rio Nuevo Chairman, Fletcher McCusker. "Bridging the financial gap for both hotels makes the plans work and can bring these exciting new facilities to our growing downtown."  Additional coordination with the City of Tucson will be needed to finalize both hotels.
The creation of the Rio Nuevo Multipurpose Facilities District was approved by Tucson voters in 1999, along with an appointed Board, to invest state tax dollars in public and public/private projects to create a vibrant Tucson core. For every dollar the Board invests, the community reaps approximately $10 of construction activity. The Arizona Auditor General's audit of the Rio Nuevo District, released in October and posted on www.rionuevo.org, said the District is in 100% compliance with state statutes for the first time in Rio Nuevo history.
Work Cam of the AC Marriott Hotel construction progress can be viewed here.