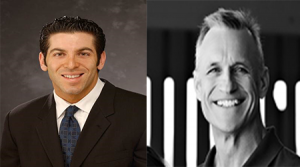 SCOTTSDALE, ARIZONA  -- Dave Headstream and Jason Hyams have joined Insight Land & Investments specializing in land sales of all types as well as urban infill redevelopment parcels.
Hyams spent the last 20 years working for CBRE after graduating from the University of Arizona.  He gained his experience working with Buyers and Sellers of all types of land including multi-family,  single family,  retail,  industrial,  speculative land and farm land.
"We are thrilled about this new opportunity to work together over at Insight Land & Investments,  leveraging our collective market experience of nearly 56 years in Phoenix to best serve our existing and new clients moving forward," said Hyams.
Headstream started his real estate career selling land and/or buildings of every classification: multi-family, office, retail,  industrial,  hotel,  farm, resort, single family, educational,  religious facility, historic, and governmental.
"The collaborative effort and information sharing amongst the seasoned professionals at Insight Land & Investments is second to none, and will help us provide better value to those with whom we work", said Headstream.
Insight Land & Investments is located in Scottsdale, Arizona. Hyams can be reached at 602-684-6685,  or jhyams@insightland.com.  Headstream can be reached at 602-920-0362,  or dheadstream@insightland.com.