Circle K Stores of Tempe, AZ purchased a 57,935-square-foot retail pad at La Jolla Verde Commercial Center in Sahuarita for $1 million ($17.30 PSF). This will be the first pad construction at this new retail center located southeast of I-19 on Old Nogales Hwy near the full diamond interchange.
This core retail intersection for Sahuarita with a Super Walmart-anchored center directly across from it. This Walmart center also has Ross Dress for Less, Big Lots, Wells Fargo, Walgreens, Bank of America, 99 Cent Only, and other national retailers.
Brenna Lacey with the Volk Company in Tucson represented the seller, La Jolla Verde Land Holdings, LLC of Los Gatos, CA.
Kurt Maes with Scarbrough & Associates in Phoenix represented Circle K in the acquisition.
To learn more Lacey should be reached at 520.326.3200 and Maes can be contacted at 602.774.4243,
*     *     *      *      *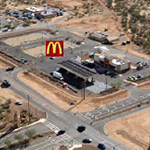 In a second unrelated transaction, a 42,047-square-foot retail pad (lot 3 block 45) in Rancho Sahuarita, Sahuarita, AZ sold to Gen2Properties, LLC dba Taco Bell for $895,000 ($21.29 PSF).
Located at the southeast corner of I-19 and Sahuarita Road, Taco Bell with join McDonalds, Shell, United States Post Office, and Pima County Public Library.
A growing bedroom community, Sahuarita is only 15 minutes to Tucson Airport and 45 minutes to Nogales and Mexico.
Rob Tomlinson, Retail Specialist with Cushman & Wakefield | Picor of Tucson represented the seller, RSMC VI, LLC and Aaron LaPrise, Retail Specialist with Cushman & Wakefield | Picor represented the buyer.
To learn more Tomlinson should be contacted at 520.546.2757 and LaPrise can be reached at 520.546.2770.
For additional information see RED Comp #2849 and #2850.