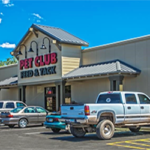 Sahuarita is a newly developed culturally diverse residential and business community and is one of Arizona' s fastest-growing communities. Positioned along Interstate 19 with convenient access to Interstate 10, Sahuarita has an estimated retail trading area of 70,000 people and is forecasted to grow to 140,000 by 2020.
A private Californian-investor from San Francisco purchased the Pet Club at 2585 N Abrego Drive in Sahuarita, AZ for $3.12 million ($299 PSF). The 10,450-square-foot Pet Club Feed and Tack Store opened in Sahuarita in December 2015 just before the closing.
The seller, SimonCRE bought the 43,412-square-foot improved lot at the northwest corner of Abrego Drive & Duval Mine Road in Sahuarita for construction of the 10,450 -square-foot Pet Club Feed and Tack Store. Located off I-19 on Nogales Highway, Pet Club is on a long-term fifteen (15) year net lease with a corporate guarantee. The lease includes 10% rent increases every five years and three, five-year renewal options.
Pet Club has been serving loyal customers for over 30 years, with over 60 locations in Arizona, Colorado and Texas. This location serves pet lovers in Green Valley, Tucson and Sahuarita.
The site provides excellent retail synergy being located across the street from Madera Marketplace including retailers such as Walmart, Big Lots, Big 5, Ross, AutoZone and Walgreens and many more.
Greg Saltz with GPS Retail and Chad Tiedeman with Phoenix Commercial Advisors represented the seller, SimonCRE and David McDonald, CCIM, with Idaho Commercial Brokerage in Boise, Idaho represented the buyer.
For more information, Saltz can be reached at 602.672.4559, McDonald can be called at 208.343.9300 and Tiedeman should be contacted at 602.288.3472.
To learn more, see RED Comp #3516 and prior land sale at RED Comp #2988.
*          *          *          *          *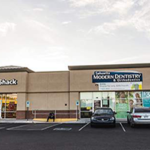 SPD 18726 Nogales Hwy, LLC of California (Deyan Petakovich, manager) bought an outlot in Sahuarita at the Walmart Super Center, a two-unit strip center in Sahuarita Plaza, for $2.075 million ($371 PSF). Located in a 136,000-square-foot retail center, the outlot was 100% leased to Radio Shack and Pacific Dental, both with corporate guarantees at time of sale.
Newly built in 2011, a recent lease assumption was made by a Sprint Entity for the former Radio Shack (2,100 SF) that was assumed by General Wireless.
The center and its tenants benefit from the excellent demographics, strong traffic counts and tremendous visibility along South Nogales Highway. This dominant retail corridor includes many national retailers such as Walmart, Ross, Big Lots, Petco, Jo-Ann, Denny' s, Pizza Hut, Carl' s Jr, T-Mobile, Bank of America, Walgreeens and many more.
Brandon Duff and Brad Feller with Stan Johnson Company in Scottsdale, AZ handled the transaction for both buyer and seller, 18000 Nogales, LLC (Art Shepherd, manager).
For more information, Duff and Feller should be reached at 312.240.0127
To learn more, see RED Comp #3533.