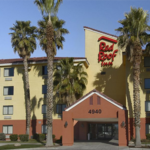 BW RRI IV, LLC, a partnership between a Singapore investor and Westmont Hospitality has won the bidding for a Red Roof Inn portfolio which contains 89 hotels with 10,715 rooms. Their winning bid of about $600 million ($55,996 per room) beat out runner-up Blackstone, which wanted to convert the properties to its Motel 6 brand.
Five Mile and Westmont put the portfolio up for sale this past December via Eastdil Secured. Westmont wanted to stay in the investment, so it teamed up with the unidentified Singapore investor to make an offer on the portfolio.
The sale enables majority partner Five Mile Capital to cash out and Westmont to retain a minority stake and continue to operate the portfolio.
There were two Tucson Red Roof Inns that sold in the transaction, the 118-room hotel at 3704 East Irvington Road (near Tucson International Airport) in Tucson for $2.89 million ($24,450 per room) and the 133-room hotel at 4940 West Ina Road in North Tucson for $2.95 million ($22,208 per room).
Five Mile Capital Partners of Stamford, Conn and Montreal-based Westmont Hospitality Group took over 143 Red Roof hotels in 2011 after the Red Roof chain defaulted on debt. Four years ago, they financed the purchase with a $275 million floating-rate loan from Starwood Property and Fortress Credit, and then plowed $70 million into improvements.
After the partnership sold 20 of the properties, Starwood and Fortress agreed to modify the loan in 2013, increasing its size to $285 million and extending its term by two years, to August 2015, plus three one-year extension options.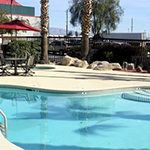 The senior $200 million portion of the modified loan, then backed by 123 hotels, was securitized via a stand-alone deal led by Wells Fargo. That loan, whose total balance has paid down to $235.9 million, will be retired in conjunction with this sale.
Barclays will finance the purchase with $450 million of floating-rate debt package that has a two-year term, with three one-year extension options. The bank will divide it into senior and mezzanine portions whose sizes are still being determined. Barclays will securitize the senior portion in a stand-alone deal and place the junior debt with high-yield investors.
Since the 2013 financing, Five Mile and Westmont has sold off an additional 33 hotels, reducing the portfolio to 90 properties and one more hotel remaining for sale.
For additional information log in and refer to RED Comp #2938 and #2932.