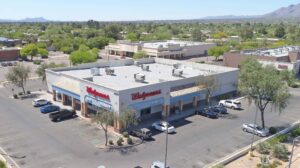 TUCSON, ARIZONA — The Deerfield, Illinois-based retailer recently sold the 15,589-square-foot store at 4685 East Grant Road in Tucson to DS Tucson Landlord, LLC, an affiliate of SunTrust Equity Funding LLC, records show. The price equates to $416 per square foot.
The store is on 1.54 acres near Tucson Medical Center (TMC), a 641-bed regional hospital., a Mayo Clinic Care Network member.
The property at Swan and Grant is well established with drive-through pick-up window to deliver prescription and non-prescription drugs along with many other essential retail items during the COVID-19 pandemic.
The Walgreens was built in 1997 and sold with a new 15-year lease guaranteed by Walgreen Co., a subsidiary of Walgreens Boots Alliance, Inc., the Parent Company. Walgreens has a 23-year operational history at this location and the new 15-year absolute NNN lease reflects their re-commitment to this location for the foreseeable future.
With a stable, recurring cash flow and single tenant, Walgreens-leased properties are often seen as the Gold Standard for investors. There were no outside brokers involved in the transaction.
This month, Walgreens at 11951 N 1st Avenue in Oro Valley sold for $5.2 million ($342 PSF). The 15,120-square-foot building on 2.24 acres in Placita de Oro was sold by Tangerine Valley, LLC to a private California investor.
The property last sold in January 2003.
John Barnes of Colliers International in Phoenix handled the transaction.
For more information, Barnes can be reached at 602.222.5042.
To learn more, see RED Comps #7763 and #7843.