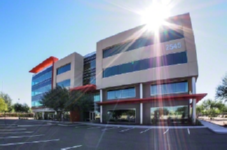 Phoenix is about to get a new psychiatric hospital. Quail Run Medical Office Building at 2545 West Quail Avenue in Phoenix sold to UHS of Phoenix, LLC for $7.4 ($110 PSF). The property is a 67,324-square-foot, Class-A, four-story office / medical shell building on 5 acres. It was constructed in 2008, and has been in shell condition since original construction.
Located just north of Loop 101 off the I-17 freeway, the hospital will be in close proximity to John C. Lincoln Hospital and deer Valley Hospital. The buyer, an affiliate of Universal Health Services, Inc. of King of Prussia, PA, purchased the property to finish for a psychiatric hospital.
Universal Health Services, Inc. (UHS) is one of the nation's largest and most respected healthcare management companies, operating through its subsidiaries, behavioral health facilities, acute care hospitals and ambulatory centers nationwide, in Puerto Rico and the U.S. Virgin Islands. UHS was founded in 1978 by Alan B. Miller, chairman and CEO, and today has more than 65,000 employees. UHS maintains one of the strongest balance sheets and is rated amongst the highest in the hospital services industry by Moody's and Standard & Poor's. This strong capital position has enabled the company to develop and acquire many new facilities over the past few years.
The UHS strategy is to build or purchase healthcare properties in rapidly-growing markets and create a strong franchise based on exceptional service and effective cost control. UHS owes its success to a responsive management style and to a service philosophy that is based on integrity, competence and compassion.
The healthcare industry remains a place of rapid change and uncertainty. But with strength, experience and foresight to chart its own course, UHS has every reason to face the future with optimism.
The seller, Capital Asset Management of Phoenix (Aaron Strole, manager) had acquired the property in an REO sale from Starwood Capital.
Tim Dulaney of Colliers International in Phoenix represented the buyer in the transaction and the seller was self-represented.
For more information, Dulaney can be reached at (602) 330-4468. Capital Asset Management is at (602) 489-7990.