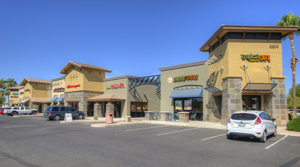 MESA, Arizona – Fully leased to eight tenants, The Village at Superstition Springs sold for $3.4 million, or $265 per square foot. The Seller was 6610 E. Baseline Road Investors, L.L.C. The Buyer was Landry Family Trust. The transaction was complicated by the layers of various associations related to it since it was part of a master-planned, mixed-use community. It was also built as a multi-tenant condo building, which is unique in itself.
The property is located just south of Superstition Springs Center, a super regional mall. It sits amid restaurants, medical buildings, car dealers and other retail. The northeast corner of Power Road and Baseline Road has a well-leased Fry's Supermarket Center and the southwest corner has 99 Cents Only, Goodwill, and Petco. Restaurants located in the immediate trade area include: On the Border, B.J.'s Restaurant and Brew House, Red Robin, PF Chang's, IHOP, Arby's, Panda Express, and Jack in the Box. Starbucks recently opened a new free-standing unit with a drive-thru at the hard southeast corner of the intersection with Smash Burger.
Judi Butterworth and Lacey Eyman of ORION Investment Real Estate facilitated the sale. Butterworth said, "Village at Superstition Springs is a beautiful property in a unique setting among lakes and a golf course. It was a perfect acquisition for an out-of-state buyer looking for a stable asset." Butterworth just closed an office building sale in Scottsdale. Butterworth and Eyman recently sold a center at Guadalupe Road and Recker Road in Gilbert, and have several other retail sales in escrow at this time.