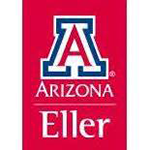 Local Economists Share their Forecasts During Mid-day Seminar at Westin La Paloma
TUCSON, Ariz. — On Friday, December 7, the University of Arizona Eller College of Management hosts its annual economic outlook Luncheon at the Westin La Paloma, located at 3800 E. Sunrise Drive in Tucson. The luncheon focuses on the future of Tucson and Arizona, as well as the national and global economies. 
Registration is open online at https://www.eller.arizona.edu/outlook/2018.
Held from noon to 1:30 p.m., the luncheon is co-sponsored by JP Morgan Chase and will feature multiple speakers including George W. Hammond, PhD, Director and Research Professor for the Economic and Business Research Center, and Anthony Chan, Chief Economist for Chase bank.
"This annual luncheon serves as an educational look into the future of the economy by multiple economic experts, and provides an opportunity to network with attendees from around Tucson and Arizona," says Paulo Goes, dean of the University of Eller College of Management.
Areas of focus during the luncheon include Tucson's strong job growth and continued momentum through 2018; surge in construction activity and the state of the local housing market; international trade and the future of Arizona's exports; federal government activity and its part in the Tucson economy; and the national economy's expansion and its sustained growth through 2019.
Advanced purchase ticket prices are $80 per person, or $800 per table before November 20. After that, individual tickets are $85 and price per table is $850. For more information about this event, attendees can contact Hammond at (520) 626-1679 or outlook@eller.arizona.edu.  For more, visit www.eller.arizona.edu.