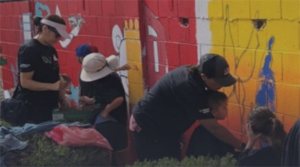 ULI 2D Leadership Hosts Public Art Walk to Highlight Acclaimed Local Murals
PHOENIX (March 2, 2023) — Urban Land Institute Arizona is hosting a public art walk to celebrate the Guerrero Park Neighborhood of Mesa and its acclaimed mural art collection.
"ULI Arizona and the ULI2D committee is proud to support the Guerrero Park neighborhood in Mesa as a living example of using Creative Placemaking to help build strong, healthy cities by promoting the integration of arts and culture in community revitalization," said Joe Blackbourn, President & CEO, Everest Holdings.
The murals were created by 14+ professional artists and designed to encourage conversation, inspire connection and build pride in the neighborhood's rich history and culture. More than 100 volunteers participated in turning the concept into reality. The art walk is open to the public and will be attended by artists, City officials, volunteers, donors, and other guests.
WHAT: ULI Arizona and Guerrero Park Neighborhood Art Walk
WHEN: 2 p.m., Friday, March 3
WHERE: Guerrero Park, 205 West 8th Avenue, Mesa
LOCAL ARTISTS: Darrin Armijo-Wardle, Edgar Fernandez, David Morgan, Chris Vena, David Martinez, Augie Gastelum, Champ Styles and more
ART WALK MAP: Map of Art with Artist Names