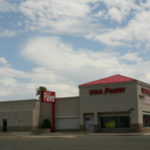 This article has been archived, please login for access or subscribe now for a free trial.
USA Pawn & Jewelry through affiliates (Craig McCall, Managing Member) sold two of its Tucson stores in sale leaseback agreements. The property at 4870 E 22nd Street sold for[mepr-show rules="58038"]$995,000 ($187 PSF) to a California investor and the store at 5000 E Speedway sold for approximately $1.4 million ($133 PSF) to a Colorado LLC.  Both have been operated as successful USA Pawn shops, one for the past ten years & and the other, for fifteen years.
Within the past year, both properties have undergone approximately $100,000 in remodeling, including increasing building elevation height to approximately 25 feet and other visual enhancements. With the remodel complete, both have a 'can't miss' or billboard-type visibility. Both are infill locations surrounded by high-density population.
EZCORP, Inc. (NASDAQ: EZPW), currently doing business as USA Pawn & Jewelry in Arizona is a market leader in specialty consumer financing, with approximately 850 locations throughout the United States, over 180 locations in Mexico, and nearly 70 locations in Canada. Headquartered in Austin, Texas, the company employs more than 6,000 employees worldwide.
The high profile freestanding building at 5000 E Speedway is located at the southeast corner of  Speedway Boulevard and Santa Rosa Avenue, west of Rosemont Boulevard, on .76 acre.  It is located on one of Tucson's most heavily trafficked arterials (±46,000 acpd*) which has six driving lanes and a median break. The property being served by a median break with a left hand turn lane from Speedway provides easy access for traffic in both directions.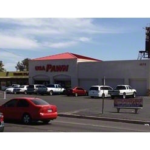 The other freestanding building at 4870 East 22nd Street is located east of Swan Road on .36 acre, also on one of Tucson' s most heavily trafficked arterials (±46,000 acpd*) with six driving lanes. The property is serviced with a median break and left hand turn lane to provide easy access for both east and westbound traffic.
The buildings will continue to be occupied by USA Pawn as part of the sale lease back agreements between seller and investors.
USA Pawn & Jewelry has locations in Nevada, Oregon and Arizona. In Tucson, there are a total of ten stores at 3867 N Oracle, 2590 S Kolb Rd, 1726 W Ajo Way, 1895 W Valencia, 420 W Valencia, 1902 E Irvington, 5000 E Speedway Blvd, 3402 S 6th Avenue, 2904 N 1st Avenue, and 4870 E 22nd Street.
Terry Dahlstrom with the Volk Company in Tucson handled the transaction for buyers and seller.
McCall can be reached at (702) 851-8155. Dahlstrom is at (520) 326-3200.
For related story on USA Pawn's purchase of its store on First Avenue in Tucson click here.
[/mepr-show]
Please login in for additional sales information.
[ismember] 5000 E Speedway: Sale date was 5/29/2013 for $1,372,000. Property sold with true net lease with 9 years remaining and was marketed at a 7.15% cap rate. Seller was Tucson Speedway Blvd. an affiliate of USA Pawn and the buyer was 1403 E 22nd Street, LLC of Durango, CO. In prior sale, the property was purchased by seller on 4/21/2006 for $1,287,500
4807 E 22nd Street: Sale date was 5/228/2013. Property sold with true net lease with 9 years remaining and was marketed at a 7.15% cap rate. Seller was 4870 22nd Street, LLC, an affiliate of USA Pawn and the buyer was The Patel Trust of Sherman Oaks, CA. In prior sale, the property was purchased by seller on 9/7/2001 for $300,000[/ismember]