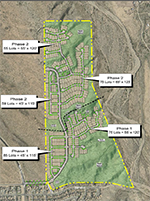 TUCSON (VAIL), ARIZONA — Lennar Homes bought 160 lots at Rincon Knolls in Vail, Arizona before the end of year for $3,024,125 ($18,900 per lot)
The platted and fully engineered lots were sold by TTLC Rincon Knolls, LLC an affiliate of The True Life Companies-(Aidan Barry, Senior VP) in this Phase 1 of Rincon Knolls. True Life will have an additional 189 lots remaining to sell in the next phase.
Will White with Land Advisors Organization in Tucson handled the transactions with associate, John Carroll.
"Rincon Knolls has been of the most sought-after properties in the Vail area," said White. "Lennar has proven to be strategic and proactive on its acquisitions in 2017 and this is another great example."
"The Vail area has had an amazing year in new home sales, homebuilder lot acquisitions, and the construction of a large amount of new retail and commercial to support the residents," White continued. "This area is experiencing record high demand by the region's homebuilders due to the natural aesthetics, Vail School District, and the pace and pricing power over the past few years. With shovel ready land in extremely short supply, we expect homebuilders to continue to aggressively pursue land positions in Vail in 2018 and beyond as this area experiences a large amount of current success and future potential."
For more information, White and Carroll should be reached at 520-514-7454.