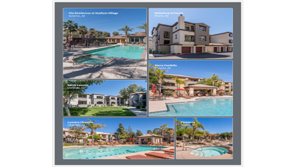 JLL arranges sale of 1,751-unit, six-property portfolio
PHOENIX, Arizona – JLL's Capital Markets experts have arranged the sale and financing of a portfolio of six metro Phoenix apartment communities on behalf of a fund managed by DRA Advisors LLC of New York City and their joint-venture partner, Dallas-based Milestone Group. The buyer was a leading global institutional investor. DRA first bought the 1,751-unit portfolio in 2012.
Managing Directors John Cunningham and Charles Steele handled the sale on behalf of the sellers.
"This portfolio provides new ownership with scale all within premium submarkets allowing for the repositioning of each asset," said Cunningham.
The properties are: The Residences at Stadium Village, a 382-unit community in Surprise; Sierra Canyon, a 236-unit community in Glendale; the 356-unit Finisterra in Tempe; Waterford at Peoria, a 200-unit community in Peoria; Sierra Foothills, a 322-unit community in Phoenix; and Lumiere Chandler, a 255-unit community in Chandler. The communities were built between 1997 and 2009.
JLL delivers multifamily investors a full range of solutions through one diverse, integrated platform. The division employs over 200 professionals who provide comprehensive investment sales and disposition services with access to thousands of domestic and foreign investors. JLL is also one of the nation's largest affordable and conventional multifamily and seniors housing lenders with comprehensive loan underwriting, asset management and loan servicing capabilities.
For more, please visit The Investors, an online and mobile app news source providing real-time commercial real estate news to asset buyers and sellers around the world.
For more news, videos and research resources on JLL, please visit the firm's U.S. media center Web page: http://bit.ly/18P2tkv