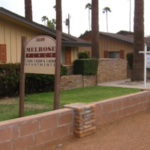 JMRS Melrose, LLC of San Diego, California sold the 13-unit Melrose Place Apartments, located at 3110 N 40th Street, in the sought after Arcadia neighborhood in Phoenix to a private investment group, South Latitude Capital, LLP of Vancouver, British Columbia, Canada for $750,000 ($58, 000 per unit).
Melrose Place Apartments is a garden-style multifamily community located in east central Phoenix. Built in 1965, Melrose Place has a pitched, composition roof and concrete-block construction, with single-level buildings. The unit mix is comprised of 4 one-bedroom / one-bath units of approximately 800-square-feet each, 7 two-bedroom / two-bath units of approximately 1,000-square-feet and 2 three-bedroom / two-bath units of 1,225-square-feet. All the units have spacious kitchens and large closets. Common area amenities include a swimming pool, covered parking and laundry facility.
Melrose Place Apartments enjoys a superior east central Phoenix location near numerous Valley hotspots, including: The Vig Arcadia, La Grande Orange Grocery, Postino WineCafe, Beckett's Table, Crudo, Nook, Chelsea's Kitchen and North Italia. The property has great access to the valley freeway system, the Biltmore and downtown. In a quiet residential neighborhood one half mile south of the Indian School Road along 40th Street allows easy access to the Biltmore area, the Camelback Corridor, the valley freeway system and numerous employers.
Natan Jacobs and Les Litwin, Principals with Vestis Group of Phoenix represented the buyer in the off-market sale of this property. Brian Smuckler and Jeff Seaman of CBRE's Multi-Housing Private Capital Group in Phoenix represented the seller.
Jacobs and Litwin should be reached at (602) 387-5330. Smuckler can be contacted at (602) 735-5688.
To submit sales and leases email REDailyNews@outlook.com.
Real Estate Daily News is sponsored by Stewart Title and Trust – The only title company named one of
"AMERICA'S MOST TRUSTWORTHY COMPANIES" in 2012 by Forbes®.
Contact Stewart Title & Trust of Tucson at (520) 327-7373 for your next closing.