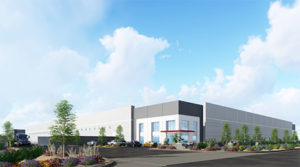 PHOENIX, Arizona — ViaWest Group announced today it has closed on the acquisition of a 25.91- acre parcel located at the SWC of Elwood St. and Sarival Ave. in Goodyear, AZ for $4.55 million. The acquisition is a joint venture with a Philadelphia-based investment company. The land is zoned for industrial use and will be developed into three industrial buildings totaling approximately 410,000 square feet.
The Santa Ana, California-based seller was RADOS Properties-Arizona Land, LLC. Allen Lowe, Principal at Lee & Associates, represented both the buyer and the seller in the transaction.
"The rapidly expanding Goodyear industrial market is a strategic location for a long-term investment." said Gary Linhart, Founding Partner at ViaWest Group.
The plan includes three separate industrial buildings of 284,290 SF, 58,473 SF, and 67,476 SF in size. All buildings are intended to be single- or multi-tenant use with modern, state-of-the-art specifications. Construction is set to begin in March 2020 with a delivery in early 2021.
"The investment by ViaWest is further evidence of the confidence developers have in Goodyear, where tenants see a great place for business, quality of life, and expanded housing options for their employees," said Goodyear Mayor Georgia Lord. "The small to mid-sized speculative buildings will provide quick-to-market solutions for a diversity of businesses. I am excited about the impact on job growth as companies take advantage of these buildings within Goodyear."
The site is located 3.2 miles south of a full-diamond interchange at Cotton Ln. and Interstate 10, less than a mile from the future Loop 303 southern extension, and is directly adjacent to buildings occupied by large industrial tenants such as Amazon and Macy's.