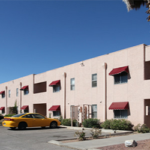 TUCSON, ARIZONA - Riderjak Properties, LP (Les Boynton, manager) purchased Vista Palmilla Apartments located at 3828 E. Fort Lowell Rd. in Tucson, from Dunn Family Trust for $1.7 million ($29,825 per unit). Community amenities include gated pool, self-service laundry, high speed internet, air conditioning and barbecue area.
Built in 1985 with 2 stories and 57-units is 70% Junior one-bedrooms and 30% two-bedroom units. The property was 92 percent occupied at time of sale.
The acquisition will become part of the Second Chance Rental network, an innovative alternative housing provider that Boynton created and is expanding in Tucson since 2015, with nine properties owned and 16 managed in Tucson. The Second Chance Rental program has property management and information management systems that benefit tenants as its core business model and philosophy. The program continues to expand for the benefit of those who seek alternative rental housing, to the benefit of landlords who see a 98 percent collection rate and 100% occupancy with a tenant waiting list.
The company, Second Chance Rentals is a self-funded 501(c) 3, that owns and manages 900 units statewide in small apartment complexes of 20 – 50 units, Boynton told us. The company boasts an 85-90 percent success rate of its tenants.
Boynton's plan is simple, he says, "We hope to make Tucson 'The Best It Can Be' in the marketplace by helping those less fortunate achieve 'housing first', change mindsets through giving hope, and create different outsets for their future." If Tucson can solve the homeless problem, it will become a model for other communities to follow.
Per the company website, 4000 to 7000 individuals and families are evicted from their Phoenix & Tucson homes every month!  Thousands more are denied access to housing due to felony arrest records or financial difficulties.
"Our innovative and time-tested systems open closed doors for these individuals and families denied an apartment because of personal history or inability to meet rigid credit qualifications," said Boynton.  Since 2003, Second Chance Rentals have been giving people the opportunity to turn their lives around.
The company is interested in acquiring and / or managing more properties in the Tucson area.
Allan Mendelsberg, Investment Specialist with Cushman & Wakefield | PICOR, represented the buyer and seller in this transaction and continues to represent Second Chance Rentals in Tucson.
For more information, Mendelsberg can be reached at 520.546.2721 or for more information on Second Chance go to https://www.my2ndchancerental.com/
To learn more, see RED Comp #4306.