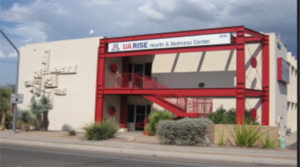 TUCSON, ARIZONA — Rick Borane of Volk Company in Tucson represented Panthera Pavilion, LLC (Stephen Grimm, manager) in its purchase of the 8,055-square-foot building and 14,425-square-feet of land at 1030 North Alvernon Way in Tucson for $700,000 ($87 PSF).
The property was fully leased to the UA Department of Family and Community Medicine for its RISE Health & Wellness Center that has been there for a number of years.
The Camp Wellness began in 2009 in response to the fact that adults with serious mental illness (SMI) have a shorter life expectancy than other adults – 25 fewer years on average, nationally. People with SMI are more likely to suffer from chronic medical conditions, including obesity, heart disease and diabetes.
In 2012, Pamela Hyde, JD, director of the U.S. Substance Abuse and Mental Health Services Administration, visited Camp Wellness and talked with students about what they gain from the program. Later that year, at the 2012 conference of the National Council for Community Behavioral Healthcare, she hailed Camp Wellness as the nation's most comprehensive wellness program for people with SMI.
The seller was CS&Z Holdings, Inc.
For more information, contact Rick Borane at 520.326.3200.