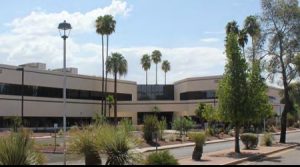 TUCSON, ARIZONA, April 19, 2023 -- Holualoa Forbes, LLC, an affiliate of Holualoa Companies, sold the office building at 2202 N Forbes to the State of Arizona for $8.2 million ($143 PSF) to the State of Arizona to be owner-occupied.
Dave Volk of Volk Company represented Holualoa Companies in the office building sale.
"The State of Arizona purchased the 57,400-foot office building, situated on 6.3 acres, to permit several agencies to consolidate into one location for increased efficiency," Volk explained.
Carondelet Healthcare had owned the Forbes office building before Holualoa bought it in 2018. When Carondelet was purchased by Tenet Healthcare in 2016, Tenet moved its operations out of the building. It is part of the larger Broadbent Interstate Center, which first took shape in the 1980s.
Holualoa Companies' Chief Financial Officer, Lani Baker, said the property was particularly desirable because of its well-established location and proximity to Interstate 10 and the University of Arizona when it was purchased in 2018.
Office sales continue to be robust in Tucson, shown by almost $30 million in sales volume for Q1, representing 157,077 square feet sold. Of those sales, 60% occurred in the Northeast Tucson submarket, and 74% of sales were purchased to be owner-occupied.
Vicki Robinson and Chris Corney of JLL of Phoenix represented the buyer.
For additional information, Volk can be reached at 520.235.3000.
To learn more, see RED Comp #10623.