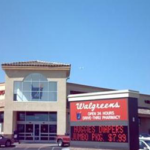 Bixby Bridge Capital through an affiliate, RCK Properties (Alfonso Bundoc, agent) in Los Angles, California bought the Walgreens investment property at 605 West Ajo Way in Tucson for $7.75 million ($538 PSF). The 14,418-square-foot Walgreens in South Tucson sits on 1.4 acre, built in 2003,  at the southwest corner of Ajo and 12th Avenue in the South submarket of Tucson.
Bixby Bridge Capital, LLC is a private real estate investor and lender with a credit-focused, contrarian, and value-add investment philosophy. Where other investors require extensive due diligence periods, Bixby's nimble team and flat hierarchy allows underwriting opportunities efficiently. Rather than having separate departments for acquisitions and asset management, each Bixby principal oversees the full life cycle of an investment.
Bixby's funds are internal and always available, allowing Bixby to close quickly on an all-cash basis. While principally focused on the United States, Bixby has investments throughout the world and across myriad asset classes including industrial, office, hospitality, multi-family, marinas, residential lots, raw land, and retail. Originally formed in 1992, Bixby has offices in Northbrook, IL and Dallas, TX.
The seller was S&N Tucson, LLC of Franklin, Michigan.
The sale of this newer Walgreen is the second highest price fetched for a Walgreens in the past 12-months, and second only to Walgreens at 7111 East Golf Links Road in Tucson that sold on June 30, 2015 for $9.52 million ($618 PSF) in a 1031 Exchange.
Cap rates for these investments continue to hover around a 6.5% cap rate for the Tucson market.
For more information, Bixby can be reached at 847.313.6454.
To learn more, see RED Comp #3712.